How Waterbed™ is Transforming Sales for Plant Retailers
Every retailer knows to account for some amount of shrink in their budget. But what if one of your significant sources of shrink is entirely avoidable?
For many plant retailers, this is a reality. From independent garden centers to big-box retailers, most stores aren't equipped to maintain proper watering for each plant in stock. In fact, these businesses ultimately markdown or write off about 25% of their live goods inventory because they simply haven't been able to keep them adequately watered. As a result, the plants die or diminish.
This is why more retailers each day are saving money with the automated Waterbed™.
---
What is Waterbed?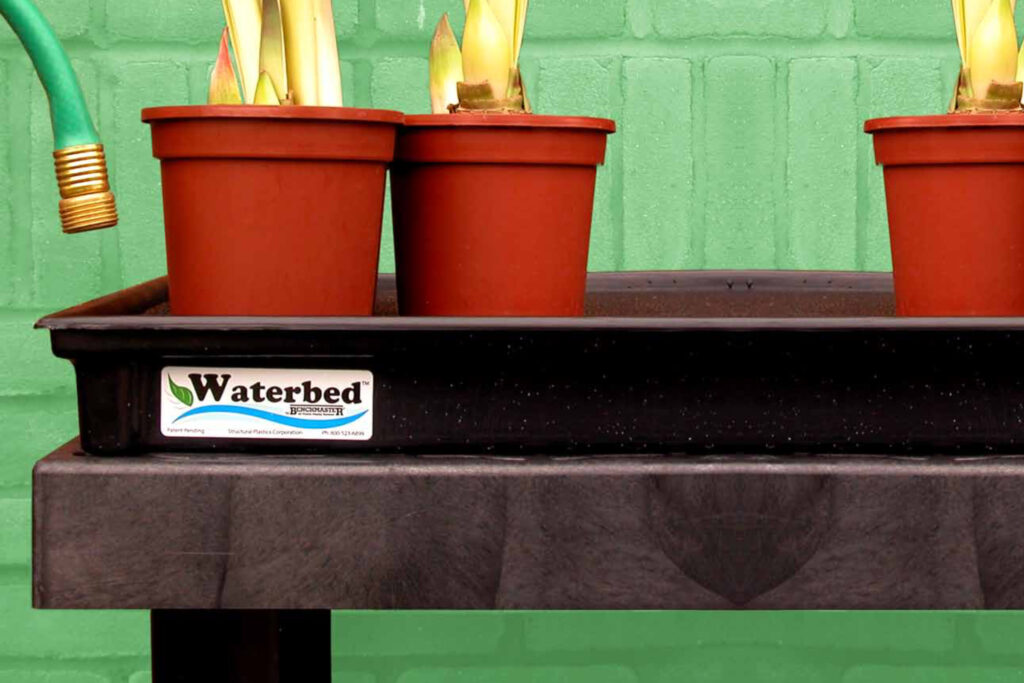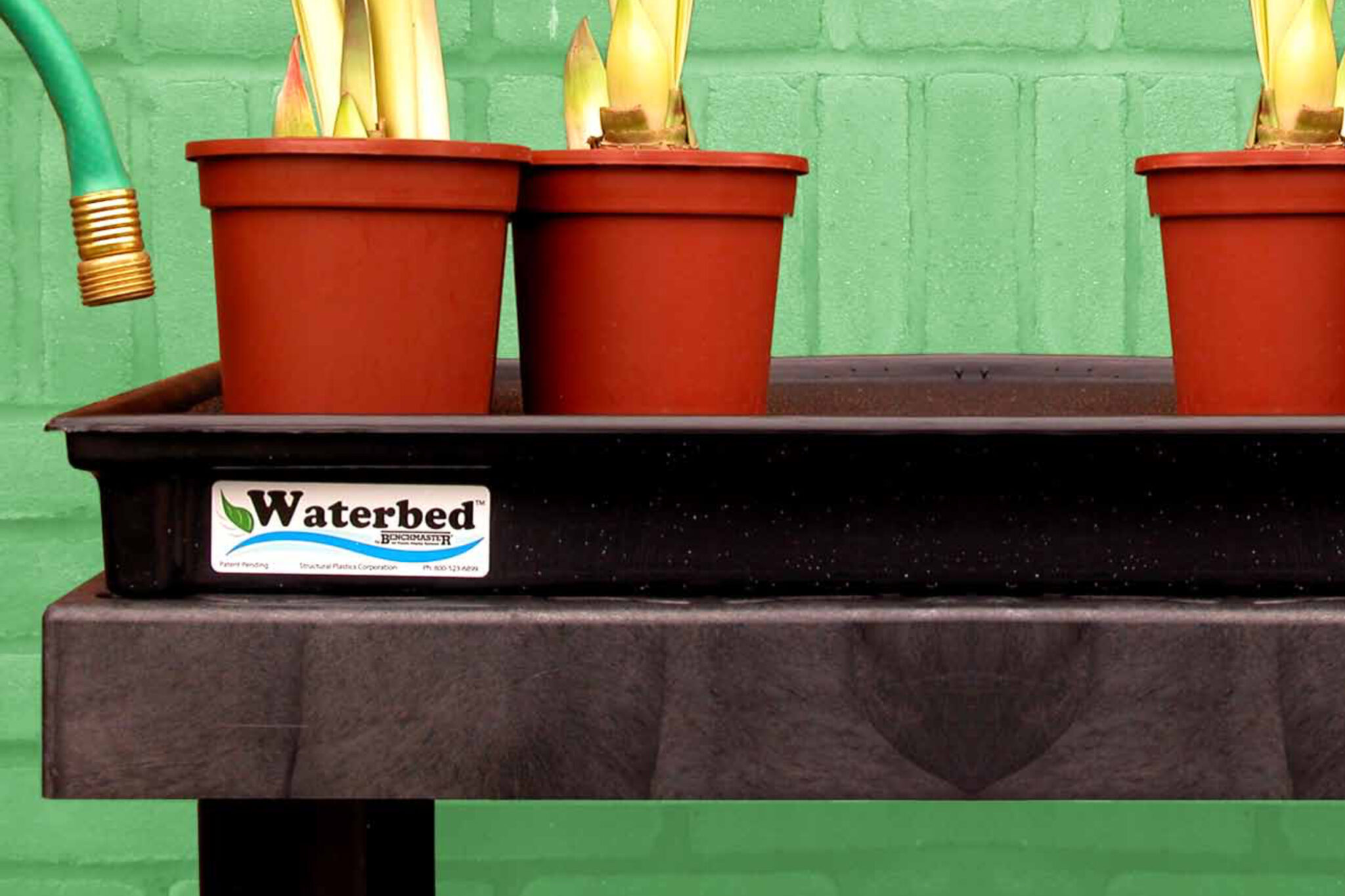 Waterbed is an automated plant watering system designed specifically for retailers. It uses an irrigation tray that is easy to fill and gives each plant the water it needs — no more, no less.
Waterbed is designed to fit ideally with our Benchmaster™ plant displays and work with any potted plants with holes in the bottom. Either way, it reduces watering time and improves water distribution, so your plants get what they need every time.
---
How Does Waterbed Work?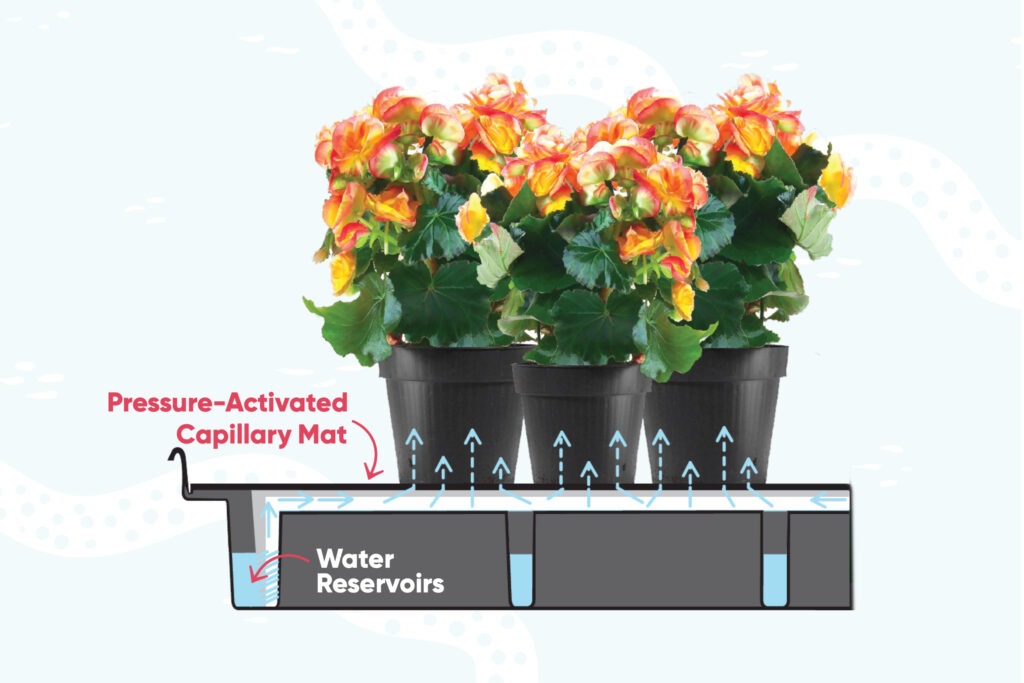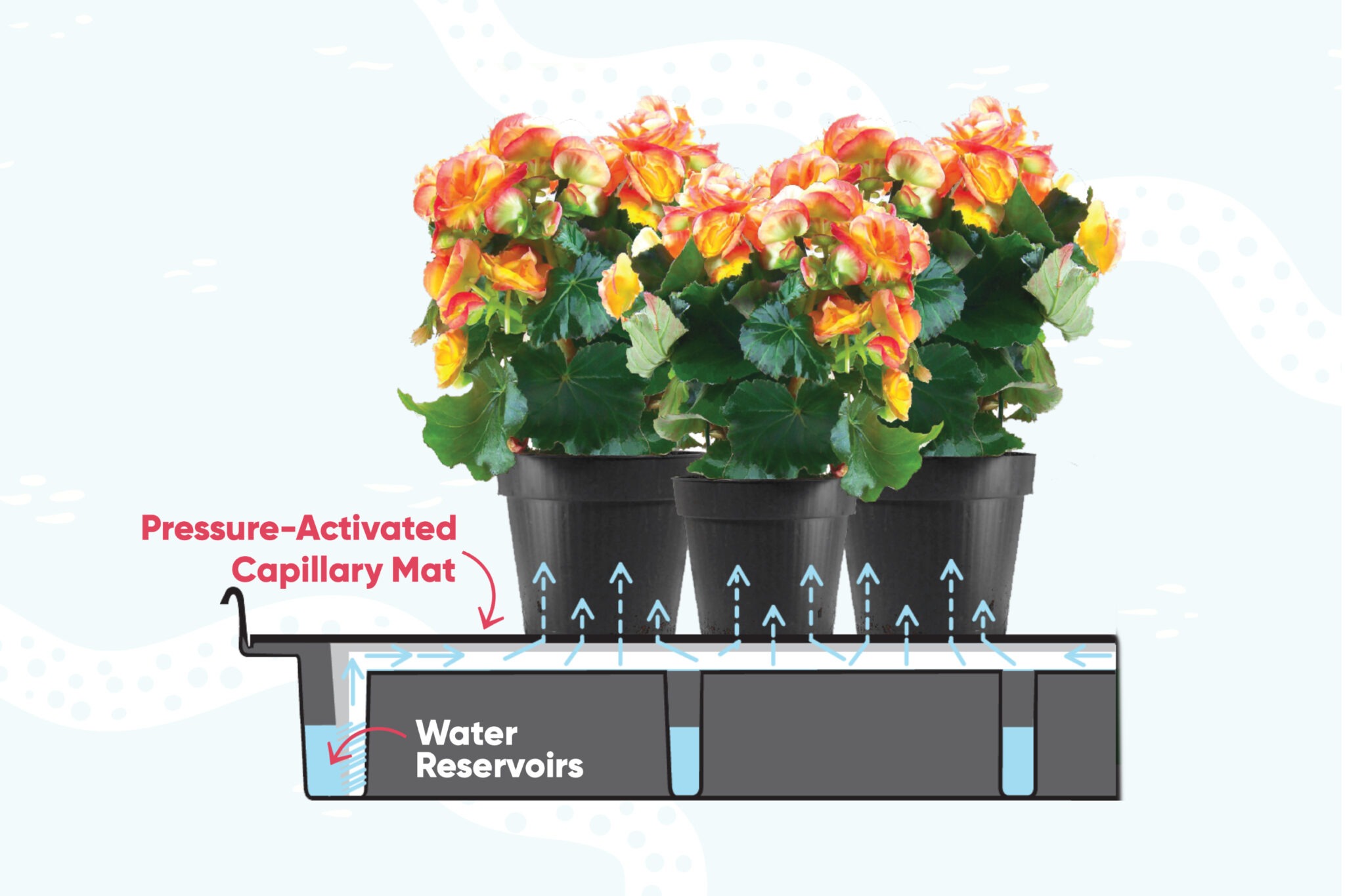 The effectiveness of Waterbed comes from two uniquely innovative parts of its design: the pressure-activated capillary mat and the specialized water reservoirs.
Pressure-Activated Capillary Mat
The idea of a capillary mat is nothing new, but Waterbed's pressure activation is what makes it unique. This feature specifically delivers water to areas where plant pots are sitting. Water isn't wasted on empty parts of the mat, so whether you're fully stocked or at half capacity, your plants get what they need.
The mat is also unique because it's micro-perforated rather than woven. This reduces the amount of water lost to evaporation while also ensuring that plants don't grow into the mat's weave. The mat is also easier to clean, with fewer tight spaces for mold to grow; it blocks UV rays and prevents algae growth.
Water Reservoir
For ultimate ease of use, the Waterbed uses self-regulated and self-contained water reservoirs. They don't need access to plumbing; you simply fill them with a hose and let them work their magic. There's also no need to worry about placing your mat on a level surface, as the reservoirs will self-regulate even on a slope.
Any excess water will run off, so there's no need to worry about overfilling your reservoirs or planning ahead for rain. The reservoirs hold a full day of water in hot, dry climates, lasting even longer in cooler or more humid areas.
---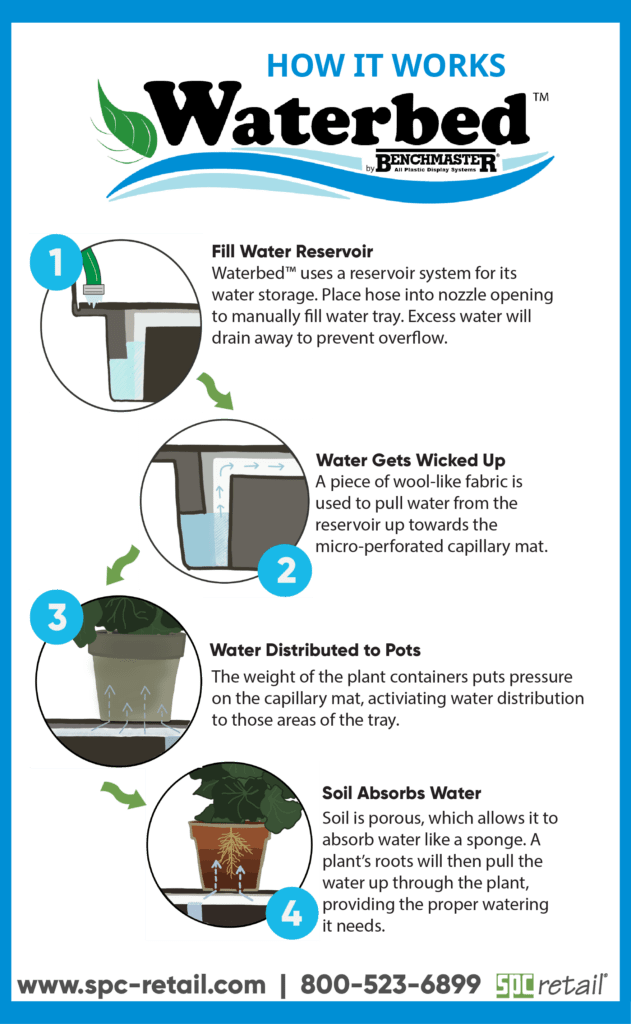 ---
Why Choose Waterbed?
Waterbed is a great investment for your retail store. Its simple use means that your employees don't need extensive training to learn how much to water each plant, when to water them, and so on. It saves time and water as well because water is regulated automatically and reserved for when it's needed.
Waterbed installation is easy as it's comes pre-assembled and is built to integrate perfectly with our Benchmaster displays. If you already have a Benchmaster display, we have retrofit kits available.
Ultimately, Waterbed is a money-saver. It keeps your plants healthy so you have less shrink and can sell your beautifully maintained plants at a higher price because they're worth it. The high-quality construction will protect your investment for years to come.
---
Get Started with Waterbed
Waterbed can be a breakthrough toward lower maintenance needs and higher profits for your store. To put Waterbed or our other retail products to use, shop our products online.