Innovation in Temporary Retail
Lasting anywhere from one day to six months, pop-up retail has been a marketing avenue for retailers and brand manufacturers since the early 2000s. Since then, pop-up stores, flash retail, or temporary retail has grown and evolved to become one of the most effective techniques of launching products, enhancing brand awareness, and reaching out to new markets.
Traditionally, flash retail spaces were structured to drive sales. These spaces provide convenient and affordable solutions for you to avoid trappings typical with regular businesses such as long-term leasing, maintenance, permanent employees, equipment, etc.
Some of the benefits of a pop-up store include:
The Evolution of Pop-Up Retail
While early pop-ups were mostly designed to make use of vacant storefronts and mall spaces just like brick-and-mortar stores, the latest iterations of pop-up retail stores include tactics to leverage events, promos, and other marketing opportunities to win customers and increase brand exposure. Pop-up stores have become the getaways to a brand's ecosystem. It serves to personalize relations and increase brand visibility, by providing an easy way of integrating digital and physical elements of retail.
From one-off gallery showrooms to mobile display trucks bringing city retailing chicness to rural customers, pop-up stores are classified by their function and location. Here's a look at some of the flash retail innovative formats you might like to explore in your next pop-up venture.
---
Nomadic Retail
If you're a retailer that wants to avoid the bottlenecks coming with leasing physical stores, you can take advantage of pop-up tours to achieve your goals. Nomad stores use a store-on-wheels format, such as a shipping container or a van to move to new markets. With these marketing roadshows, you get to tap into the granular pockets of customers based on seasonal demand.
Lee Fashion Truck is a mobile boutique in Austin, TX featuring young contemporary clothing that leverages the efficiency of nomadic retail to increase sales. By trialling its products in different markets around TX, Lee Fashion Truck not only gets to collect market information with ease but take advantage of events to present its products. With nomadic retail, the idea is; instead of waiting customers to come to you, why not go to them?
Nomadic retail is not just for small businesses. Puma's shipping container and Amazon's Treasure Truck, show how retail giants are embracing the shop-on-wheels concept.

---
Shop-in Shop Retail
This type of pop-up retail is based on the heart of collaborative consumption. If you own a coffee shop and have extra space, you can convert this space into money. You can rent it out for retailers that want to set up pop-up stores. They are ready to use spaces that need slight customization. If you consider this option, make sure you can match up with prices, experience, and style of customers that frequent the existing stores.
Taylor Morgan, a California-based jewelry store, has set up a shop-in shop pop-up at the local West Elm Store. West Elm is the popular modern home furniture, decor and accessories store in the area. Its goal is to tap into a new potential market by leveraging high foot traffic at West Elm. The owner of jewelry store knows that West Elm's clients are likely interested in trinkets because of their love for high-end home decor and accessories.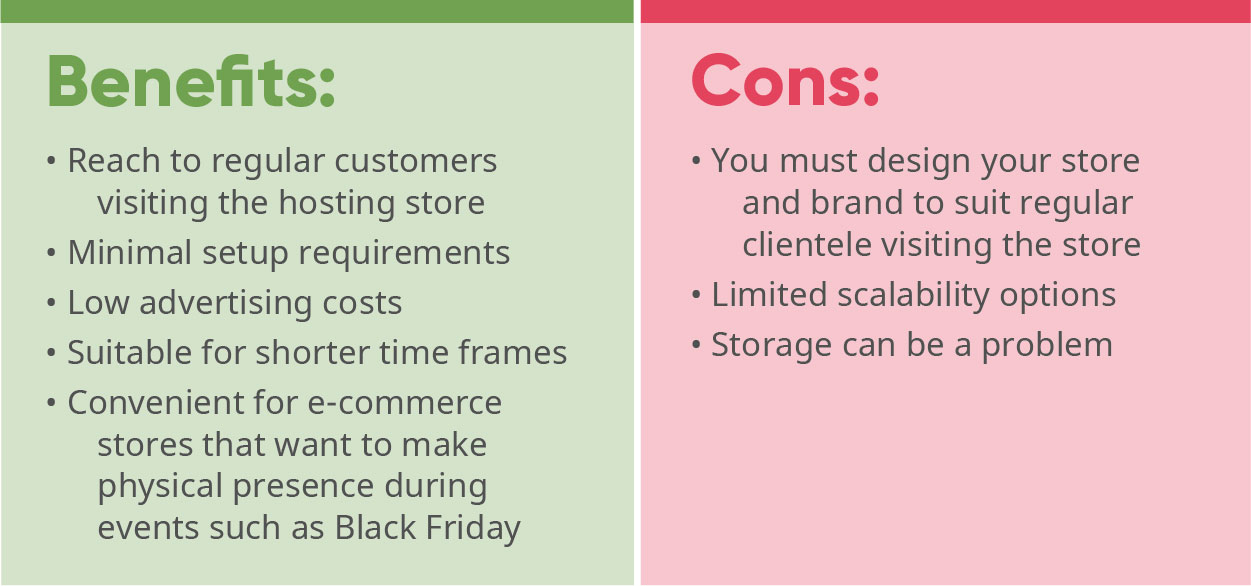 ---
Rotating Retail
Vacancy rates are trending down across the US, Europe and Asia prompting mall owners to partner with existing retailers in the mall to offer the community new shopping experience. Retail brands who might find it expensive to set up stores in an area can utilize rotating retail concepts to engage new customers at a low cost. For instance, the Westfield shopping center in Australia is an affordable collaborative pop-up space for businesses to test their latest products and promote their brands.
Simon Malls use rotating retail to give customers new experience by letting them test new products and brands. The malls provide a 'Launchpad.' The Launchpad allows popular brands to pilot new products and test new markets. It's a store-within-store concept that focuses on tech products curated by Simon Malls staff.
Somerset Collection Studio set a year-round storefront in Detroit that enables retailers that would otherwise find it expensive to set a store in Detroit to pop up, showcase their products and tap into the Detroit market. The 1400 square space features movable display cases, digital display walls and a fully activated alley.

---
Brand Engagement Pop-Up Retail
These are pop-ups that utilize the events, trade exhibitions, and booth spaces at strategic locations with high foot traffic to bolster brand awareness. Such pop-up retail shops serve to engage customers by understanding their pain points and building products around the customer's needs. This format is mostly used by companies to celebrate milestones or introduce new products to the market.
Aldo Shoes is known for leveraging brand engagement pop-up retail to show customers new products and infuse the company's culture into the consumer market. The company uses these pop-ups to meet customers, answer their questions and address their pain points. When clients meet Aldo Shoes employees in their flash retail outlets, they interact and get to share ideas that prospects to understand the company better.

---
Embrace Pop-Up
Pop-up stores are the leading retail innovations that provide established companies and budding entrepreneurs with opportunities to expand their customer base and make a statement in the market. You can utilize any pop-store format that suits your business needs. You'll have to consider factors such as location, budget, goals, and staffing. Temporary retail provides a legitimate means of generating buzz, increasing brand awareness, driving sales, and bolstering customer engagement.
At SPC Retail®, we help retailers realize their pop-up goals with our modular no-tool display system. Our displays set-up or tear-down in minutes. Contact us to get started on your next pop-up project at 800-523-6899.