How to Turn Unused Outdoor Space into a Profitable Revenue Stream
Take a minute and think back to your grade school English class where you learned how to construct an introductory paragraph. The trickiest part was coming up with the first sentence because it was your one opportunity to pull the reader in and persuade them to continue reading. Without the proper hook the effort you put into writing the perfect paper wouldn't matter.
This theory applies to retail as well. If the front of your store doesn't tell your brand story or entice someone to walk through your doors, it will not matter how hard you worked on creating an appealing in-store environment. The front of your store is a billboard to what awaits customers inside. The environment you create in your front porch needs to be able to hook customers from far beyond the parking lot. While some retailers have seen the benefits in implementing this strategy, many others are neglecting this prime real estate and the potential sales that could come from it.
Turn your unused outdoor retail space into a profitable revenue stream worthy of pulling in shoppers with these two proven strategies.
Breathe Life Into Your Front Porch

Did you know that 46.6 Billion dollars is spent each year on live goods? And, 2.5 Billion of that is spent on the growing trend of food gardens alone. Creating a live goods destination on your front porch is a simple and effect way to add a colorful, fresh, and vibrant energy to your front porch area. It's also a perfect opportunity to cross-sell with other products such as grills, patio furniture, and lawn care essentials.
At SPC, we have been designing front porch spaces for grocery, big box chains, and hardware clients for over thirty years. Over time we've determined the following have contributed to the overall success of a front porch live goods strategy:
Have Healthy, High-Quality Live Goods Offering – It's better to be narrow than deep when it comes to your live goods product mix. Make sure to choose plants that are easy to maintain and that you have the resources available for maintaining a healthy product mix.
Create Visually Impact All Year Round – If you can inspire and motivate your customers, you will be able to transform an otherwise mundane shopping trip into an extraordinary experience. Tell stories through creative and unique visual merchandising and product placement.
Help Shoppers Succeed – Educate, inform, and engage them in the live goods lifestyle. If they succeed in having a green thumb, they'll come back to shop with you and will become a loyal customer.
These tactics are proven to work. When properly implemented, a front porch live goods program will make your store more attractive and convenient for your shoppers.
---
Expand Your Outdoor Merchandising Strategy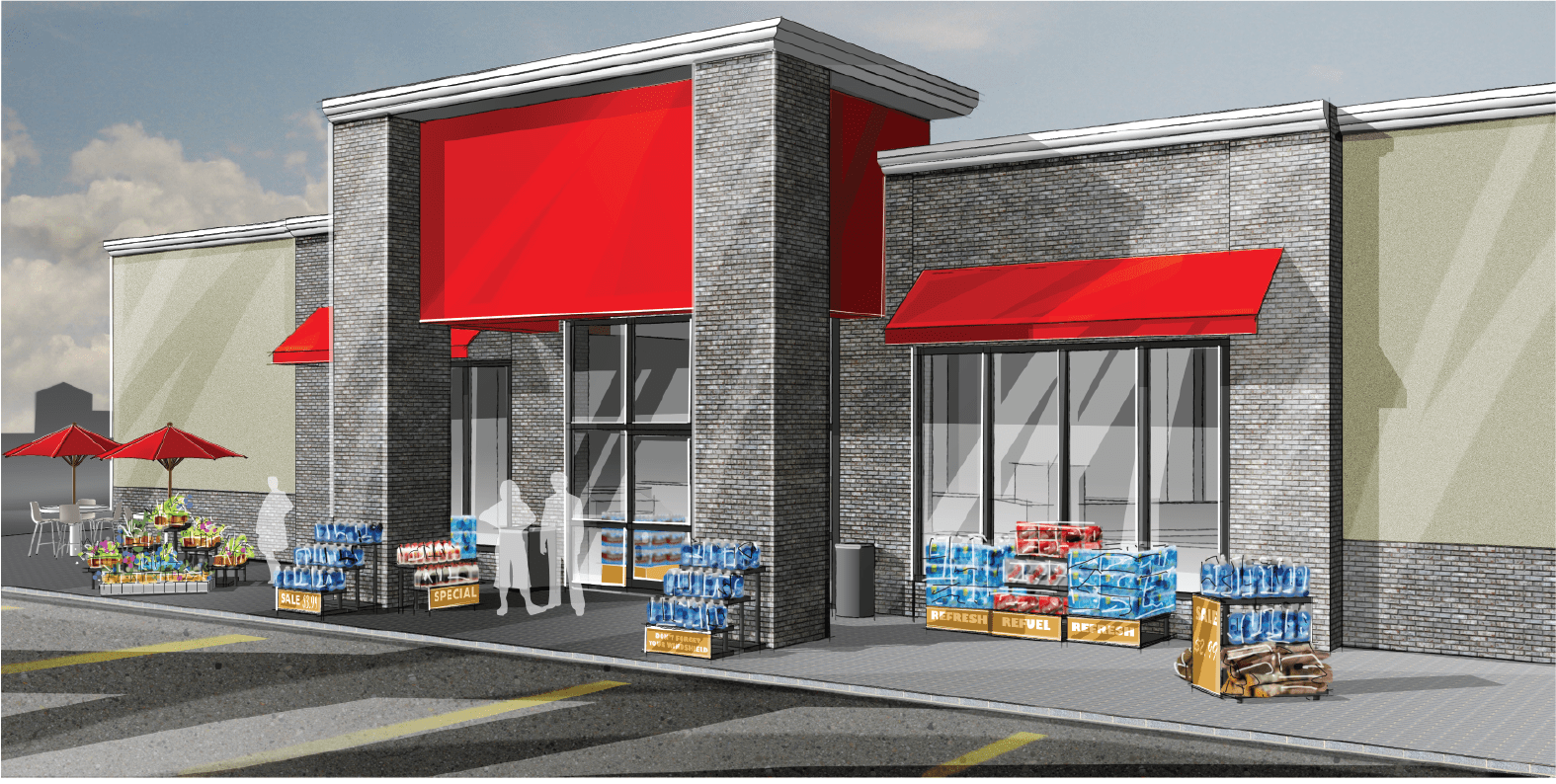 While lawn and garden products may be a natural fit for outdoor merchandising, the front porch is also a great place to highlight bulk merchandise, seasonal items, or temporary pop-up sales.
Take C-Stores for example, who've seen a rising demand for expanding their product assortment to such an extent that they are slowly running out of merchandising space inside their stores. Therefore, it has become more prevalent for them to consider using sidewalks and islands around the pumps for additional selling space. This fact can be true for most retailers who are looking to expand their product offering but don't have the space inside their stores.
Throughout our experiences designing outdoor displays for hard goods products, we have witnessed retailers who implement an outdoor merchandising strategy benefit in these three ways:
Expand the Sales Floor – Bulk merchandise, such as cases of water and soda, coolant, sidewalk sale, and windshield fluid take up a lot of space. Creating an outdoor sales floor is a great way to bulk stack these larger items, freeing up space in-store for new product mixes.
New Revenue Stream with Minimal Investment – Retailers can take advantage of seasonal products such as fire wood, mulch, or deicing salt that they would typically not carry due to limited space. This is a great way to offer additional convenience and to promote add-on-sales.
Create Visual Excitement – Make shopping fun, easy, and convenient with organized and well defined displays. By utilizing a multi-level merchandising approach versus traditional pallet bulk stacks, it will create a visually stimulating selling space.
---
Invest In A System That Works
Regardless of the type of retailer you are, there are plenty of ways to utilize the un-used space that you are already paying for. However, as good as any idea may be, if you don't have the tools to properly execute an outdoor merchandising program it may become a large undertaking.
At SPC Retail, we pride ourselves in being the experts in designing and executing outdoor merchandising programs. Our display systems are extremely versatile, easy-to-assemble, durable, and affordable. In fact, many of our customers get decades of use out of our displays, using them year-round, indoors and outdoors. Learn more about our top displays for outdoor merchandising or contact us to schedule a free consultation with our Retail Brand and Strategy Expert.