How to Reconfigure Your Greenhouse Benching for Retail + 5 Design Concepts
When you transition your growing space into a retail destination, it's crucial to maximize your area to make room for the right products, help your customers find what they're looking for, and create a pleasurable shopping experience.
How do you strike the right balance between maximizing your production capacity while utilizing the same space to create an engaging retail environment for your customers? Let's look at some solutions for reconfiguring greenhouses for retail.
Critical Challenges for Grower-Retailers to Consider
Reworking your greenhouse from cultivating-focused to retail-focused presents some unique challenges often not found in pure-play garden retailers. While growing operations aim to maximize plant production, a garden center space needs to be more open to allowing customers to navigate easily.
The imbalance between growing capacity and retail capacity often leaves them at odds with each other. In most scenarios, growers ultimately must sacrifice growing space if they're serious about creating a retail environment their customers will enjoy.
In addition, it's important to consider that plant products will be ready for sale at different times within your transition plan. Growers need to maintain a place to store plants that are weeks away from flowering or reaching the right size.
Using the right mix of fixtures, such as benching and production tables, can create an open-air environment that's easy for customers to shop and employees to maintain.
---
Choosing Your Production Tables Provider
Before you build your layout, you will need to choose a benching system to meet your propagation and retail goals. While there are numerous options such as wood, plastic, metal, or block-and-board, you should make these three criteria your top priority:
Select lightweight benching tables because they are easier to move
Invest in a variety of smaller-scale production tables for flexibility in your layout
Choose a modular system that allows for interchangeable parts
A successful transition of your growing space into a thriving garden center starts with ensuring you have the proper benching system. Any system you choose should allow you to change over your area quickly.
---
Popular Greenhouse Production Layouts
Once you have chosen a benching system, you must decide on a layout that will meet your growing capacity goals. Three types of greenhouse layouts that are most commonly used are Longitude, Peninsula, and Movable. All three options provide an increasing amount of growing space; however, the Longitude and Peninsula layouts are more conducive to adaptation for retail operations.
Longitude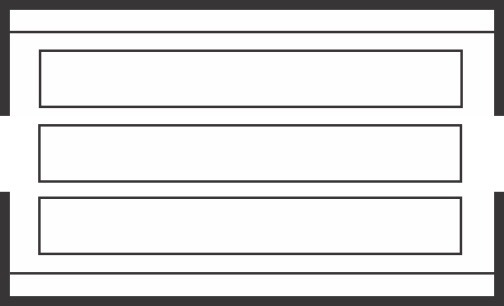 The Longitude bench layout is the most traditional system and features long, narrow aisles that span the length of the greenhouse. Depending on tables sizes and how you configure your retail space, it allows for 59% growing capacity, with up to 95% of that space reusable for converting into retail space.
Peninsula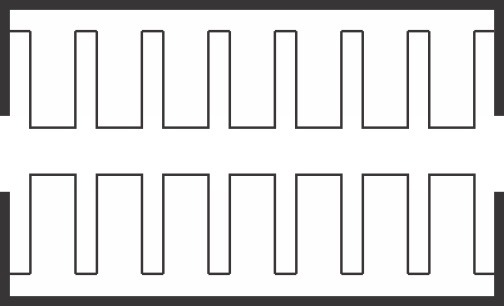 The Peninsula bench layout features a wide center aisle with benches positioned perpendicular to the sides of the greenhouse with short narrow aisles between them. It allows for 69% growing capacity, with up to 80% of that space reusable for converting into retail space.
Movable
The Movable bench layout uses rolling benches, which provide the most growing space since aisles are created where the grower wants to work. This layout, however, requires permanent heavy-duty benching systems that won't offer grower-retailers many options for rearranging this space.
---
5 Design Concepts for Engaging Retail Layouts
Now that you've determined the layout type you will use for the growing aspects of your operation, it's time to configure your space with tables that will help you meet both your propagation and retail goals. As mentioned above, stationary benches are best for retail sales areas, and it's suggested to mix-and-match benching sizes to make reconfiguring your space simple and easy.
When considering how to utilize each of the following design concepts in your layout, it's essential to keep the following in mind:
What components are available in my current production layouts?
How much labor and time can I dedicate to repositioning fixtures?
What are my growing and retail display capacity needs?
How much am I able to invest for modifications or additional displays?
How will I store fixtures when they are not in use?
Let's put these ideas into perspective:
1. Square It Out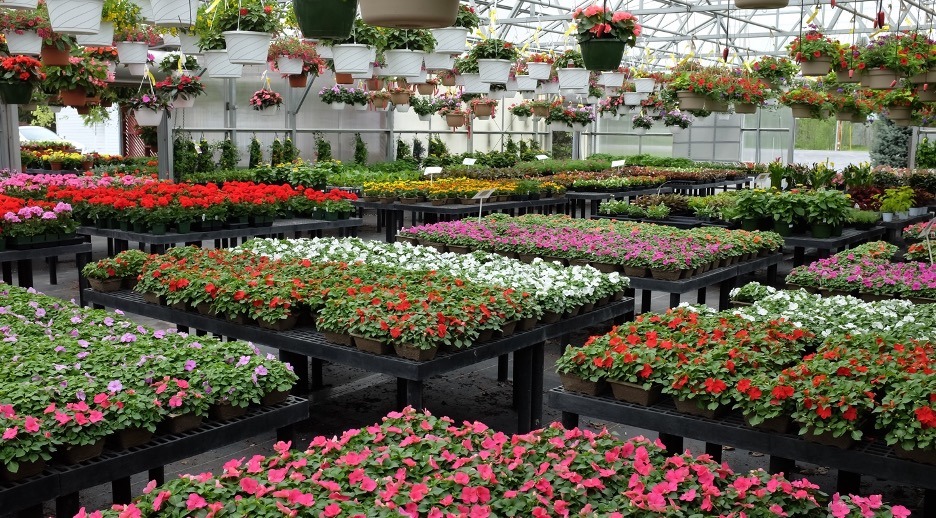 This design concept is all about making room for your customers to maneuver your space more effectively. While growing operations can get away with narrow aisles, retail spaces require more room for shopping carts and ADA compliance. The block structure allows you to use larger tables for your growing operations, which are separated into square or rectangle sections in your retail layout. Not only are you managing fewer tables, but you will be able to maintain clear sightlines throughout the entire space.
2. Step It Down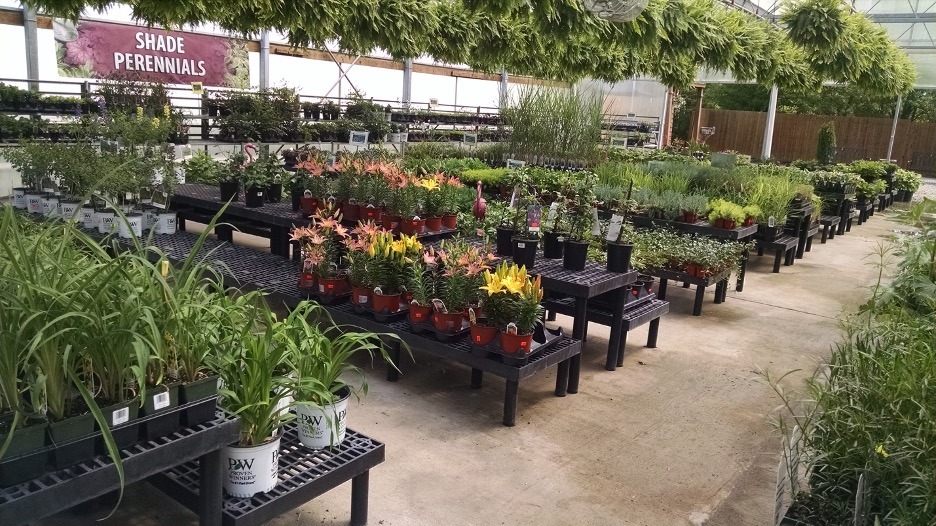 This design concept uses a combination of 16-inch and 24-inch wide benching to build levels into your visual design. While growing, keep all the tables at the same height. Then, when transitioning to your retail layout, change the legs in the 16-inch wide tables to a shorter length. This will help add depth and visual interest to allow customers to navigate the space more effectively without investing in an entirely new display system.
3. Build It Up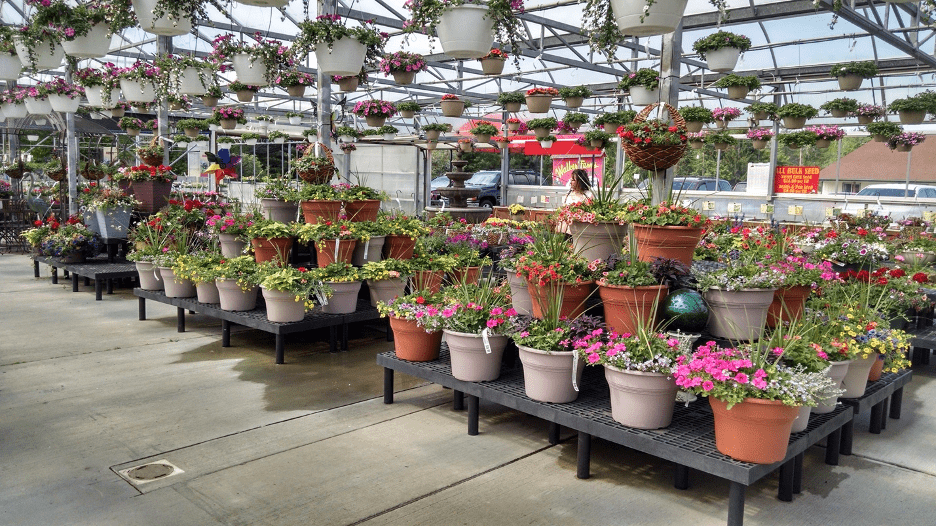 This design element is all about maximizing your vertical space and getting out as much product as possible. Using a variety of table lengths, you can stack them to create a pyramid shape. This is a great way to create featured focal areas within primary aisleways that are meant to capture shoppers' attention and help guide them throughout your space.
4. Round It Off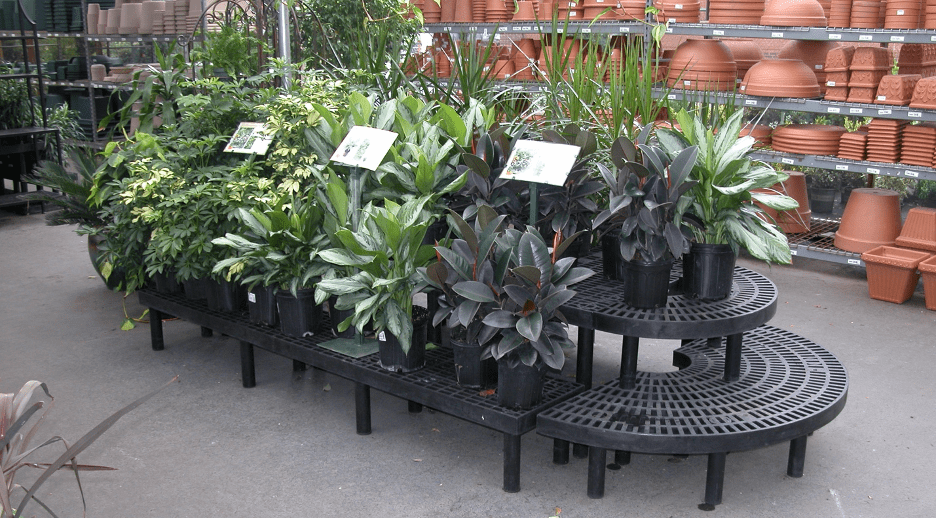 This design concept will focus on adding displays that will help soften edges and help guide shoppers from one aisle to the next. Rounding off your square benching with the addition of half-round endcaps is a simple and effective way to guide traffic flow, promote cross-sells, or extend your merchandising space.
5. Show It Off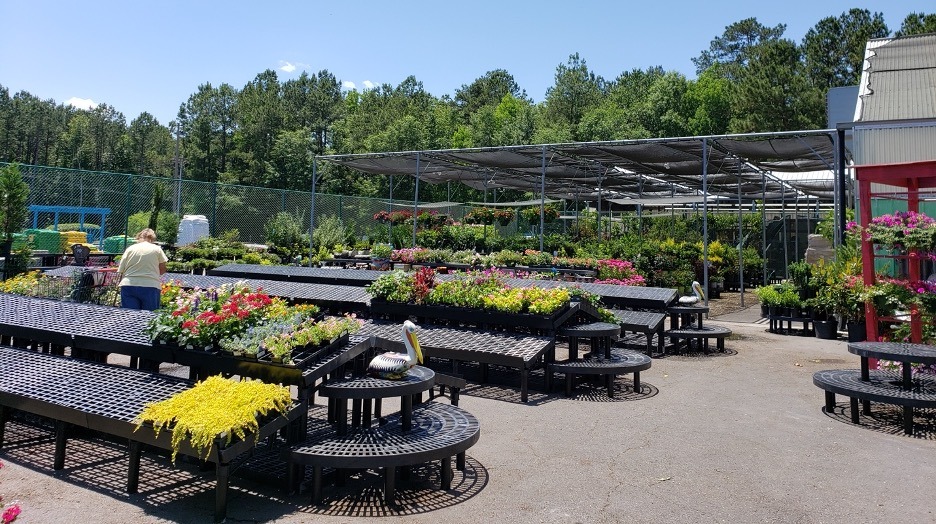 This last design concept will require the most amount of work and additional spending when transitioning your space, but it's well worth the customization to make your retail environment pop! Using a modular benching system that offers retrofit options, such as the tilt-top displays in the example above, is an excellent way to improve the product visibility of flats.
---
Trust the Experts When Reconfiguring Greenhouses for Retail
Need help with your new layout and design? We offer a no-obligation consultation to help you plan your space and maximize its potential! To get started, submit your request here or call 800-523-6899.