Kit-of-Parts 101
At SPC Retail® we often use the term "Kit-of-Parts," but what does it mean exactly? In this article, you will learn about what makes our display system different and how it equips retailers for maintaining flexibility on the retail floor.
What is Kit-of-Parts?
Our Kit-of-Parts is comprised of interchangeable components that are used to create a multitude of unique display configurations. The two main components of any SPC display are the panels and legs. Let's take a closer look at both.
Panels
The panels are the foundation of any display as they are the component that will comprise the shelf space. As you can see below, our panels range in size, shape, and texture which provide ample opportunity for innovation.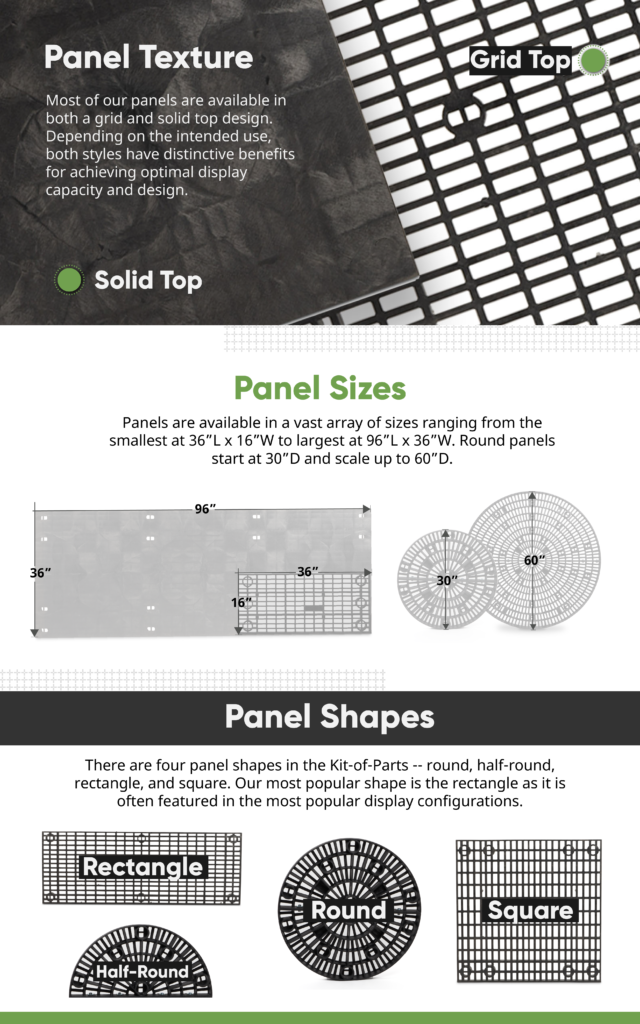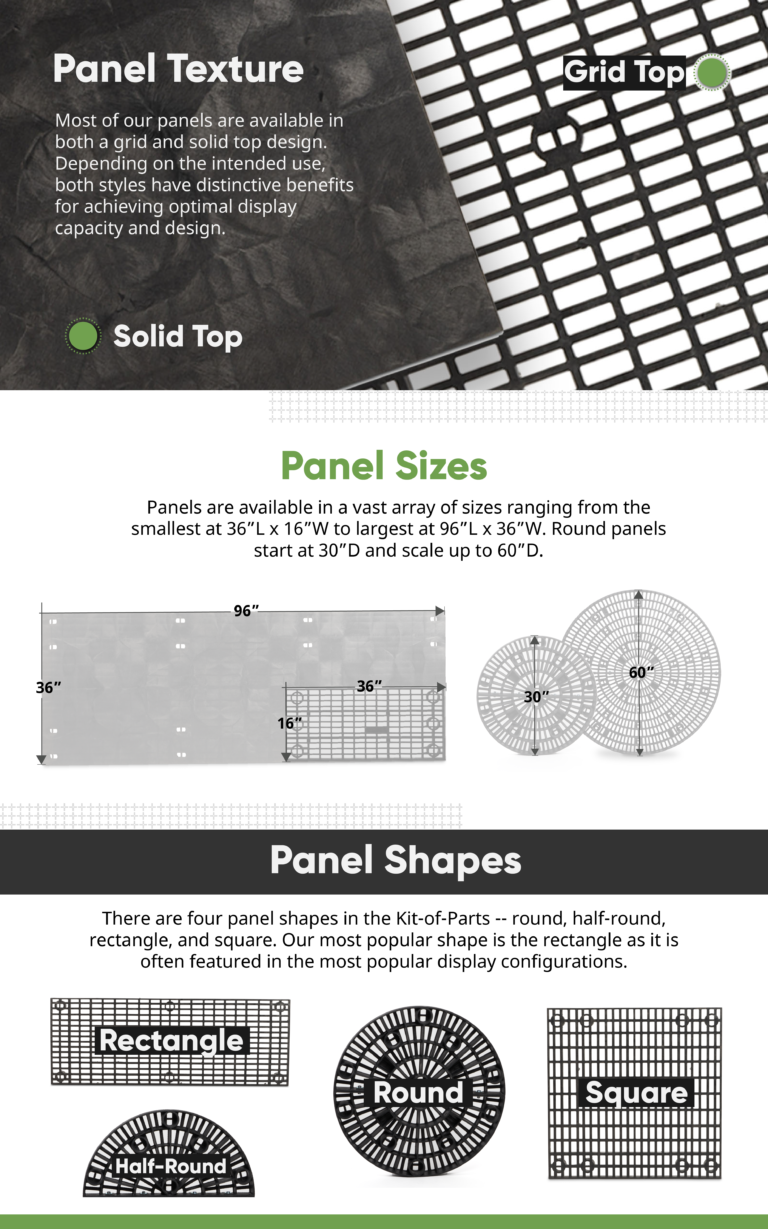 Legs
The leg components are used to connect panels together, while also providing height and stability. This is where our no-tool assembly comes in! Each panel features sockets on its underside that are engineered to hold legs and provide a connecting point between panels.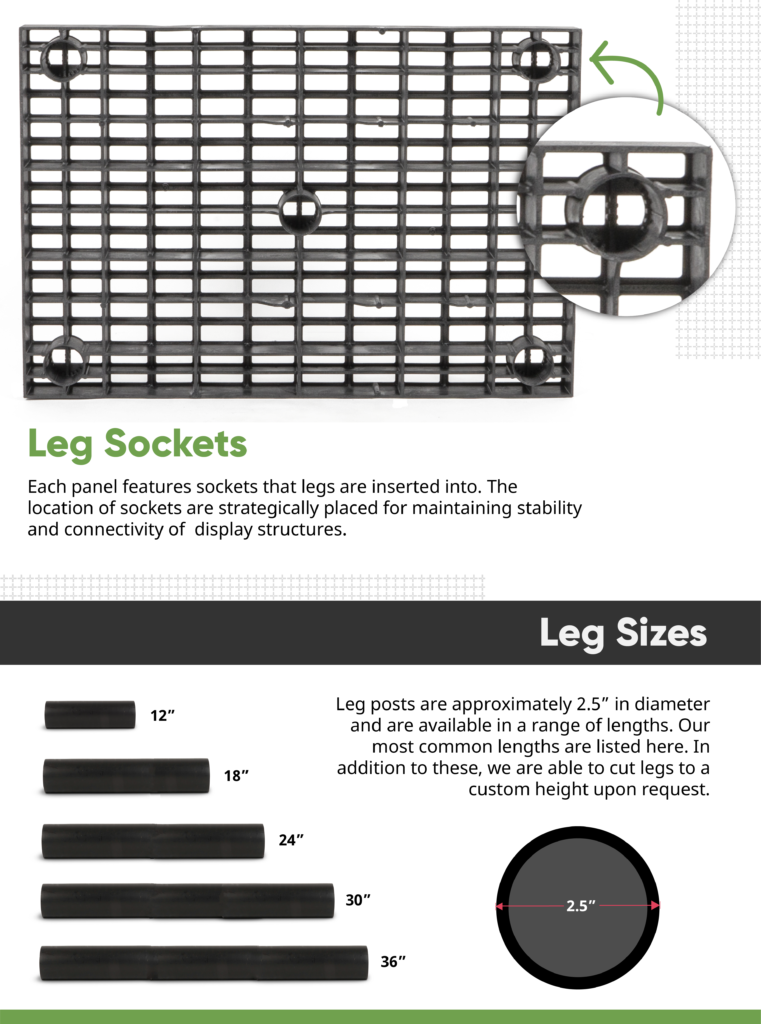 ---
How does it work?
Our Kit-of-Parts is what allows us to respond quickly to meet the specific needs of our retail clients. Although we have hundreds of standard configurations that are pre-kitted and ready to ship right away, we understand that custom solutions are needed from time to time. By using our pre-designed and in-stock components, the process for prototyping new display configurations is simple and easy.
Working one-on-one with a member of our Design Lab team, you will be able to develop a solution that meets your unique retailing needs. Operating from as little as a napkin sketch, we can go from prototype to roll-out in as little as 30-days. For more information please contact us.
---
Who can benefit from our Kit-of-Parts system?
As mentioned above, our Kit-of-Parts system can be beneficial to any retailer needing a custom or semi-custom display solution quickly without having to pay a premium for in-house design services. But the truth is, the engineering and design of our Kit-of-Parts components provide many other benefits to retailers aside from its modularity.
Those who will benefit from our displays:
Store Level Associates – Our system doesn't have any nuts or bolts that require lengthy or confusing assembly instructions. Everything snaps together without the use of tools and can easily be assembled by store-level associates in a matter of minutes.
Sustainability Conscious – All of our components are made using recycled plastic materials. Our products are green and fully recyclable.
Outdoor Merchandisers – The all-plastic material used in our displays are heavy-duty and weather-resistant, perfect for indoor or outdoor use.
Budget Minded – Not only are our products affordable upfront, but we can help you adapt what SPC displays you already have to meet changing merchandising needs without having to break the bank.
Over the past 39-years, we have equipped all types of retailers using our Kit-of-Part system, from small independent retailers to the world's largest chain stores. Our displays continue to be used in grocery, convenience, big box, garden centers, and specialty stores worldwide.
---
Why choose an SPC display?
With the retail marketplace going through insurmountable challenges and transformation, it's important that retailers have the ability to quickly adapt. Our Kit-of-Parts system provides a fast, easy, and affordable way to transform displays to meet merchandising needs.
Whether it's swapping out a panel, installing a retrofit kit, or integrating accessories, most modifications can be achieved using components from our Kit-of-Parts system.