How to Increase Sales with Visual Merchandising
Even with online sales steadily increasing, visual merchandising is still a dominant strategy for capturing sales. Inspiring and creative visual displays can increase product turnover, strengthen your brand and encourage customer loyalty.
Global retail sales are projected to reach around 28 trillion U.S. dollars by 2020, up from 22 trillion dollars in 2016. To grab a share of this market, let's take a look at ways to increase your sales through visual merchandising.
Tell A Story
65% of the world's population are visual learners and when using visual displays, message retention is a whopping 42%. Storytelling is a great way to describe your brand and encourage your customers to remember and share your story.
With attention spans steadily decreasing, it's important to grab your customer's attention immediately. Start the story at your front of store and continue throughout the shopping journey. The theme of your story can be as simple as 'back to school", "summertime travel", "a skiing trip" or a "home spa experience". Use similar colors and signage to keep it cohesive. To give your displays better structure, pick a color scheme, stick with it, and make use of retail store fixtures and modular displays to make your story stand out.
65% of the world's population are visual learners. So when you use visual storytelling, messag retention is a whopping 42%
Click To Tweet
Target Your Customers
It's critical to research your target customers' age, location, education, income and gender, with particular focus on their lifestyle behaviors in your displays. Use your Point-of-Sale history transactions to find some of this information. Colors mean different things to different people including different cultures. For example, red-orange, black and blue are effective with impulse shoppers. Budget shoppers respond best to light blue, navy, pink and teal. Knowing your customer is important when designing visual merchandising strategies and stores for displays.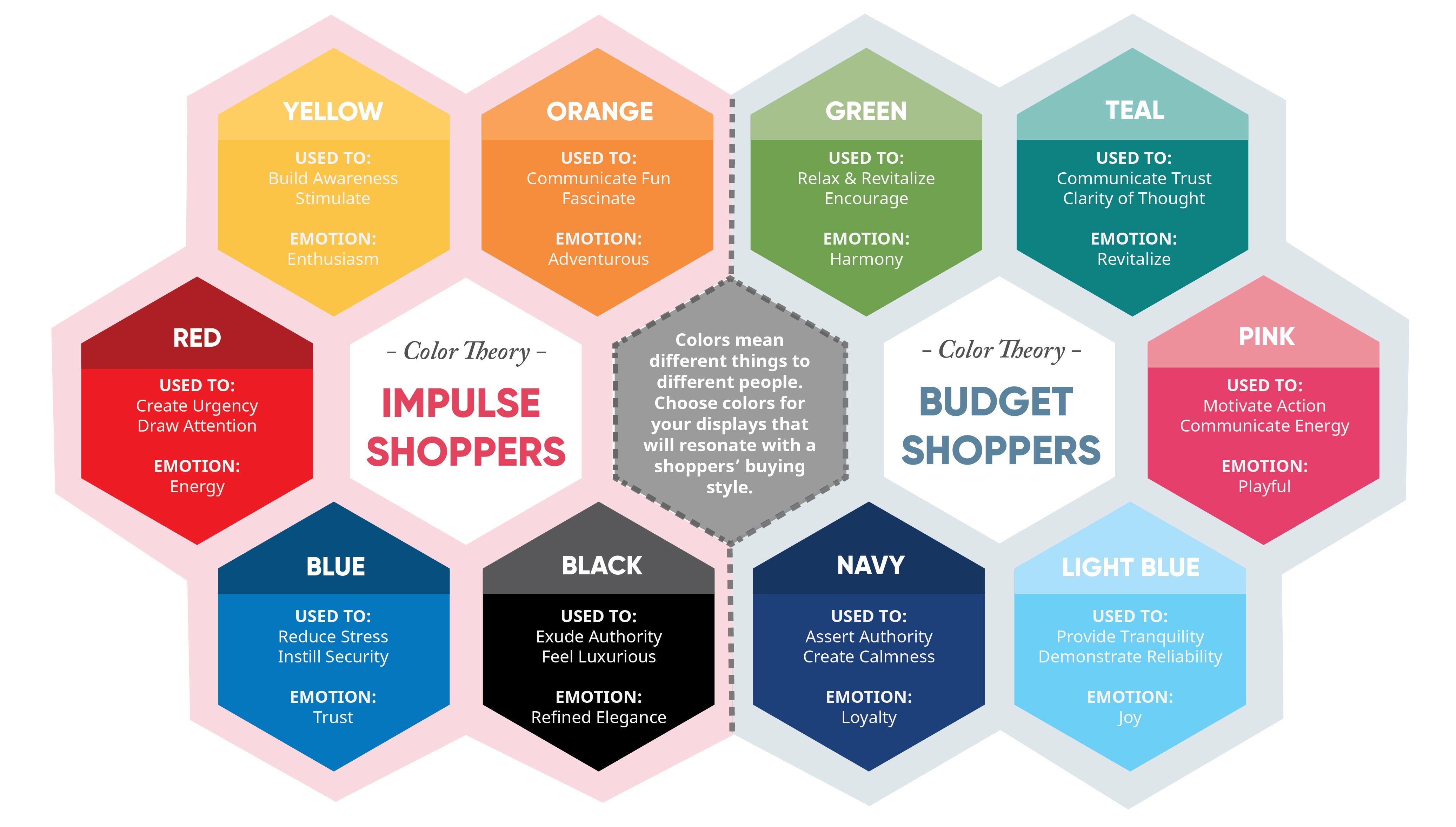 Sales Team Knowledge
Visual merchandising is used to make your merchandise and store as attractive as possible to your shoppers. Educating your staff about product stories will help you and your employees connect and help shoppers. The more knowledge and passion associates have about the products, the better position they're in to help match your customers' needs and desires with your merchandise.
Less Is More
Sometimes you can achieve a bigger visual impact by putting less items in your display rather than more. But, it takes discipline. A visual display packed with items can clutter your customer's mind but with less items, you have a better chance of enticing them to buy. Keep your display clean and well organized with the corners and sides free of products. Start with two main items and add a few related products.
Conclusion
Visual merchandising doesn't have to mean big budgets. A dynamic visual display is more about imagination. Sometimes the most visually impressive displays are those with a limited budget. If you would like information and advice on your store displays, please feel free to contact us.