Spring Layout Strategies for Garden Center Retailers
Spring has a way of bringing out the green thumb in everyone. Once the weather starts warming, your garden center becomes a beehive of activity. But while crowding and heavy foot traffic are great for sales, they can also be problematic in terms of product visibility.
Strategic use of displays and signage becomes more important than ever. When used correctly, these make your products look more attractive, easier to find, and will ultimately spur more sales so you can capitalize on an influx of ready-to-buy shoppers.
In fact, our research shows that up to two-thirds of annual garden center sales are concentrated in the spring months. If you want to make the most impact now, your best bet is to double down on your layout strategies: identify needs for layout and product placement, make items easy to find, manage heavy foot traffic, and maximize floor space to display as much product as possible.
Let's look at some specifics:
Identify your Spring Merchandising Needs
Your goal should always be to get as much on your sales floor as possible while also making it easy for customers to find what they are looking for.
Space allocation takes the lion's share of merchandising focus. The majority of your space should be dedicated to live plants. A sample mix might be 25% each to annuals and perennials, 15% to vegetables and herbs, 15% to soil and mulch, 12% to pottery, and 8% to gardening tools.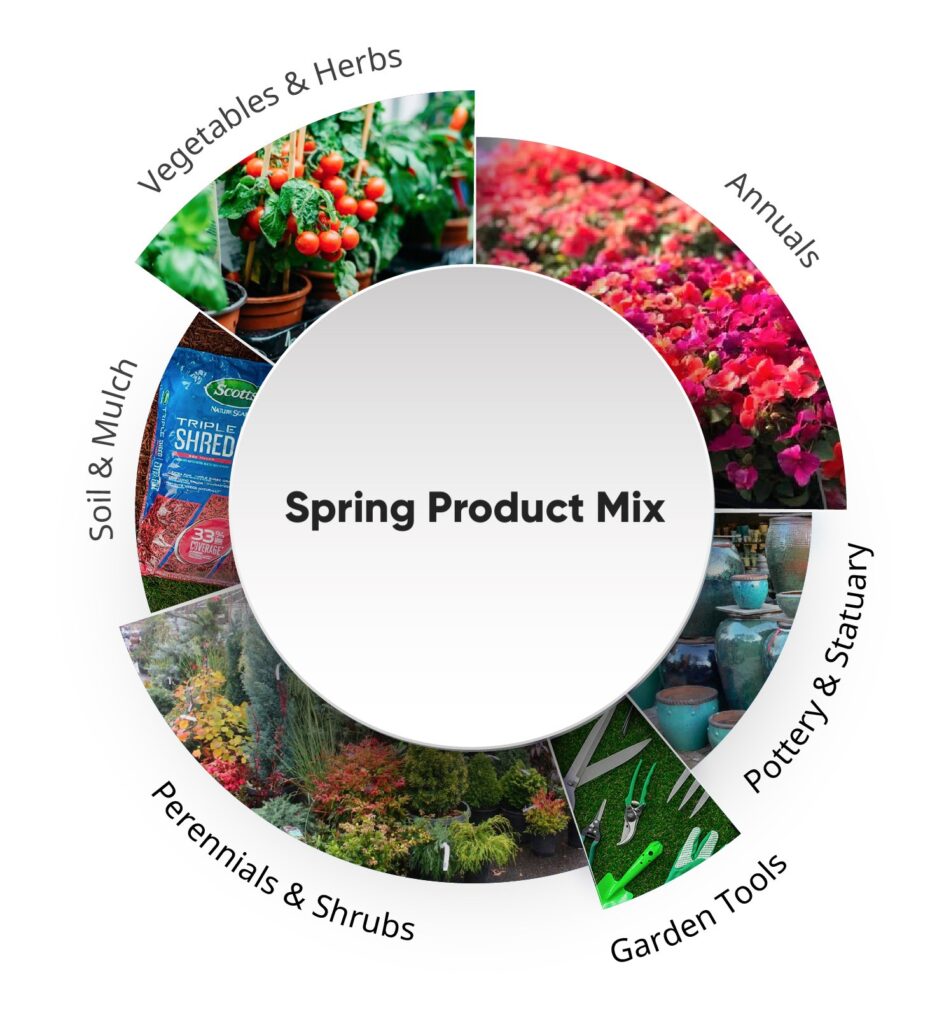 You can also review sales trends to see which items are most commonly purchased together and try to make those items available within close proximity of each other. This can minimize the walking your customers have to do to purchase all the items they need, which can, in turn, ensure they can get everything they need in a single shopping trip.
---
Develop a Spring Zone Layout Strategy
Your garden center's Spring zone layout should cater to the customer's most frequent needs. With the space allocation mentioned earlier in mind, divide stock into dedicated and clearly marked sections using the following zones: CORE, IMPULSE, FLEX, OUTDOOR.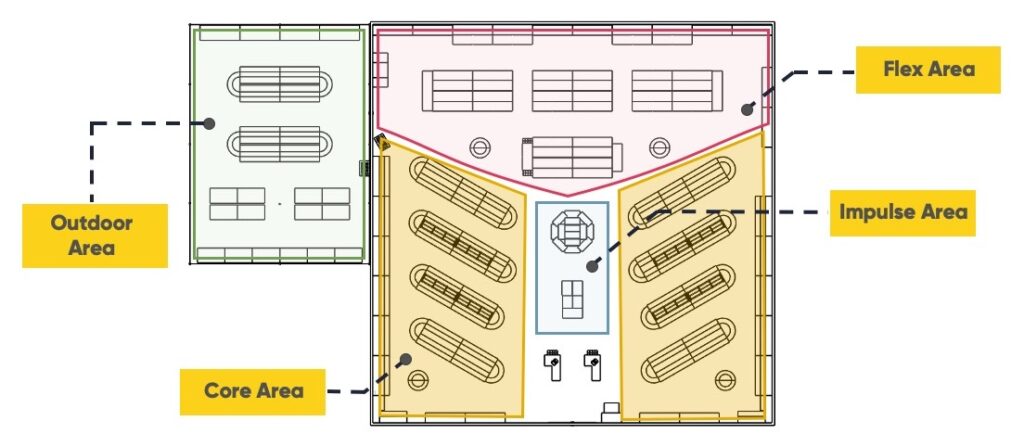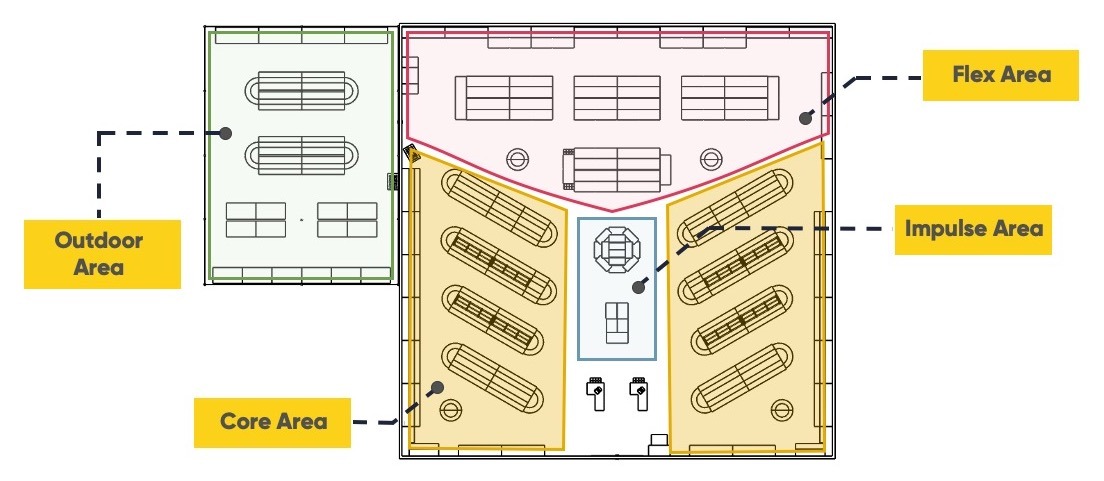 Core
The CORE section is your primary product area and should be visible when customers first enter your garden center. This area should feature step displays, which are ideal for showcasing potted plants. Pair with end cap displays for featuring special buys, overstock, cross-selling, or high margin products. Angling this layout creates a 360-degree shopping area which helps eliminate dead zones, making it easy for customers to navigate the space no matter where they are in the store.
Impulse
The IMPULSE section is centrally located within the layout and will be a point of interest within the customer journey. By strategically positioning it near the checkout, the displays used in this space must capture customers' attention. This layout features focal displays with staggered levels for enhanced visual interest and will be an excellent place for merchandising complementary items next to each other. The focus here is convenience: place items and displays in areas where every customer is likely to travel.
Flex
The FLEX section within the layout is true to its name: it's meant to be easily changed, built up, and broken down with minimal effort to accommodate rotating products. For spring, your Flex space should feature ample space for plant products (primarily flats). Utilizing the back wall will also provide shelving space for pottery and gardening tools and supplies.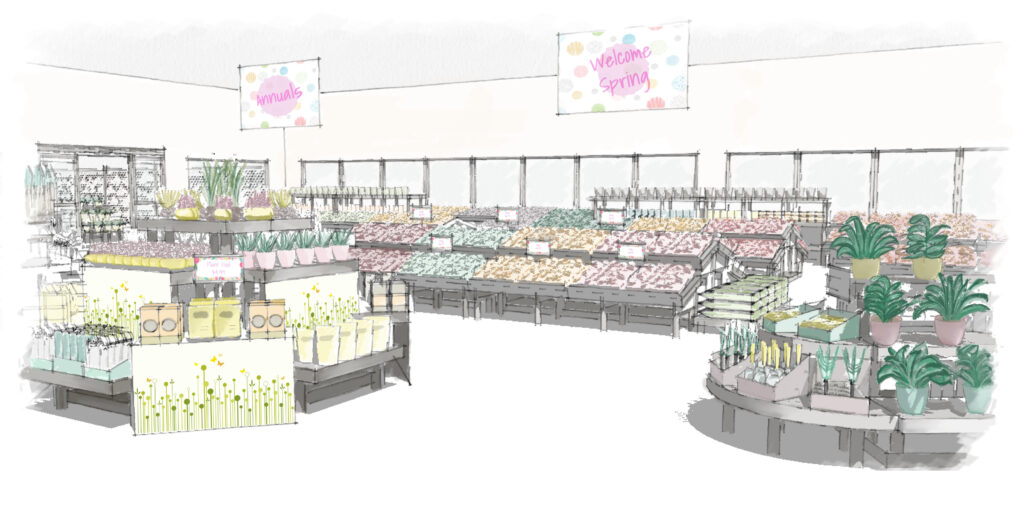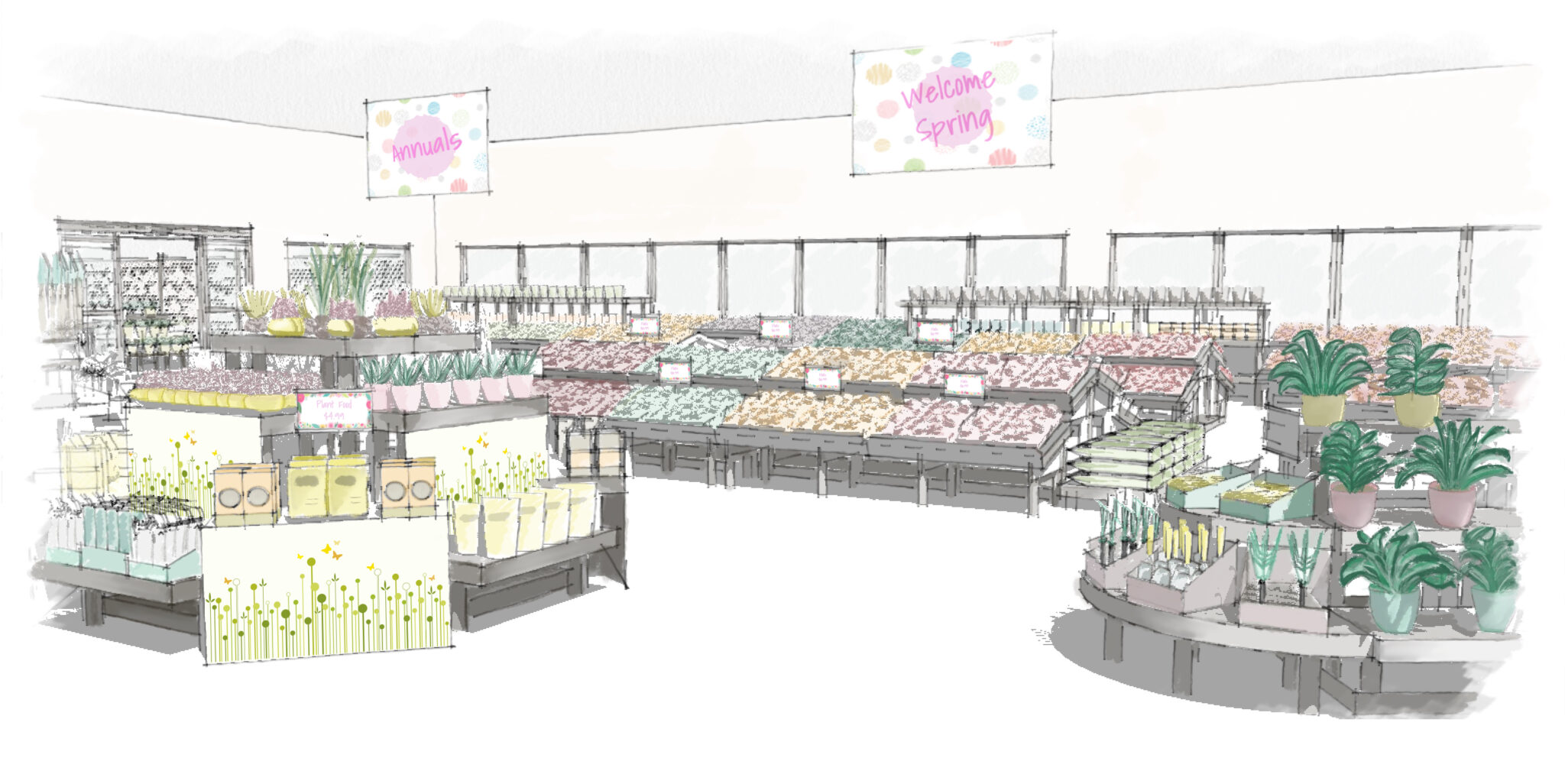 Outdoor
The OUTDOOR section is an excellent spot to feature bulk merchandise such as stones, mulch, or soil, or other things that are too heavy, bulky, or messy to bring indoors. This can also include space for larger shrubs and trees.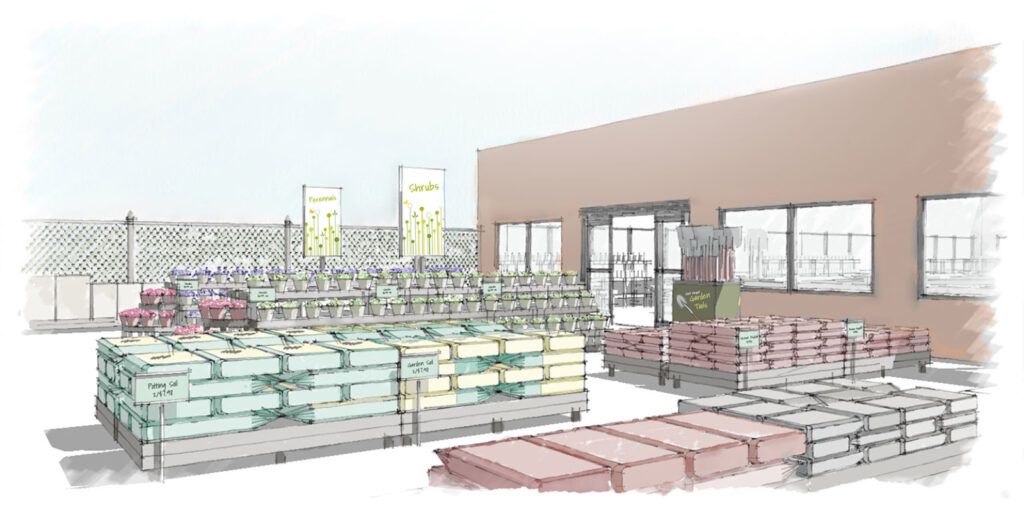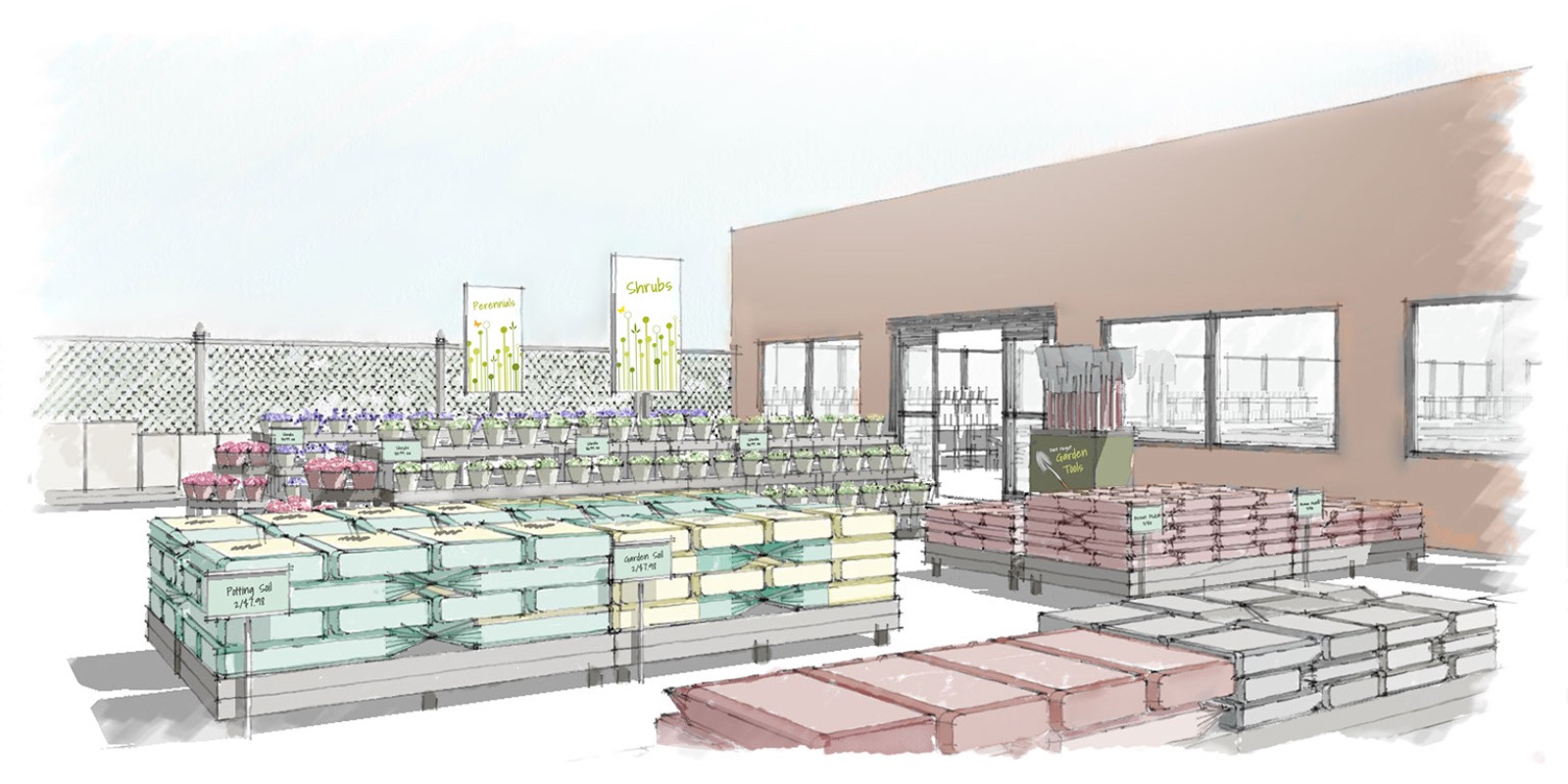 ---
Coordinate Your Aesthetics to Match the Season
Graphics and displays can go a long way in bringing the essence of spring into your store. Let's look at some points of inspiration.
Display Types
Focal displays make it easy to find groupings of products for you and your employees. Like items are merchandised together to improve visibility and bulk up your inventory's appearance.
Tilt-top displays combine flat benching with a tilt to make it easier to see and select plants. They can also beef up the appearance of your inventory.
To keep merchandise off the ground, consider using raised platforms. These can prevent damage caused by foot traffic while offering a polished presentation to keep the space feeling clean and organized.
Last but not least, half-rounded endcaps maximize space and can prove helpful in cross-selling. These are highly effective in adding soft lines to your layout, making for more of a higher-end look.
Graphics
Jazz up your garden center with the help of the Pantone 2021 Color Trends for spring and summer. This collection includes ten energizing shades that are inspired by nature and can pull shoppers into your brand and products.
---
Turning Your Store Layout into a Competitive Advantage
Many factors go into a successful seasonal adaptation strategy. Things like seasonal trends, product demand, and the displays available to you all play a vital role in determining what that strategy will look like. To learn more about our Seasonal Adaptation Strategy, watch our latest webinar on-demand.