How to Integrate Graphics on SPC Displays
Branding is everything when it comes down to the effective sale of a product.
As such, the importance of product displays in a retail outlet should never be underestimated. From shelf positions and preferred color schemes, right down to the choice of display material, a strategic product presentation will greatly affect how customers perceive and react toward your brand.
Traditional retailers often stick with plain and static designs that are primarily focused on utility (e.g. simply carrying and displaying an item). However, as the global market becomes increasingly competitive, retailers must turn to a more creative display technique to gain an edge in their marketing efforts and overall store design.
Introducing the world of graphic integration for displays – where designs truly serve as bold extensions of your brand. Graphic integration enables retailers to conveniently rebrand their displays to coordinate with seasonal themes, such as Christmas, Back-to-School, Black Friday, or to create unique and engaging designs and messages.
---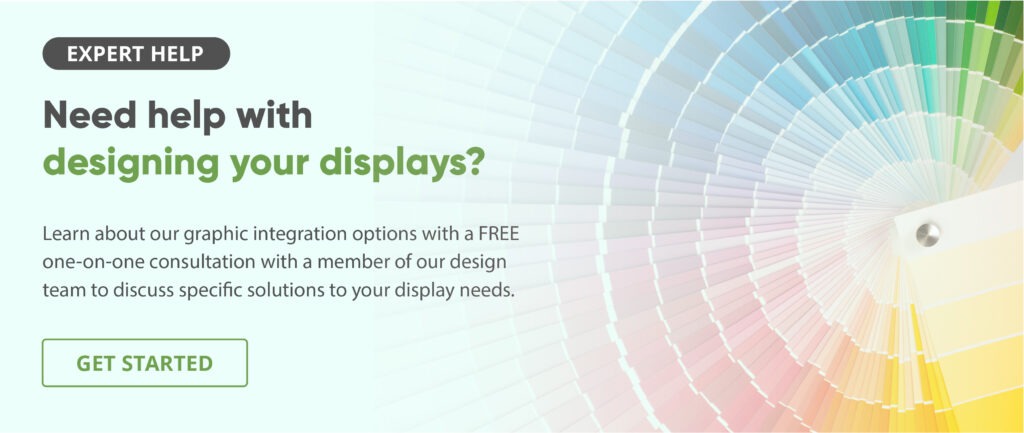 ---
Redefining Displays
SPC Retail® is a dedicated solutions provider for your retail display needs. We believe in creating displays that are versatile in both the product it holds and in their ability to accommodate your visual branding needs. Our design team offers graphic integration opportunities that will raise your display standards to the next level. You can now coordinate, organize, and enhance in-store presentations and brand messaging with ease.
---
Graphic Clips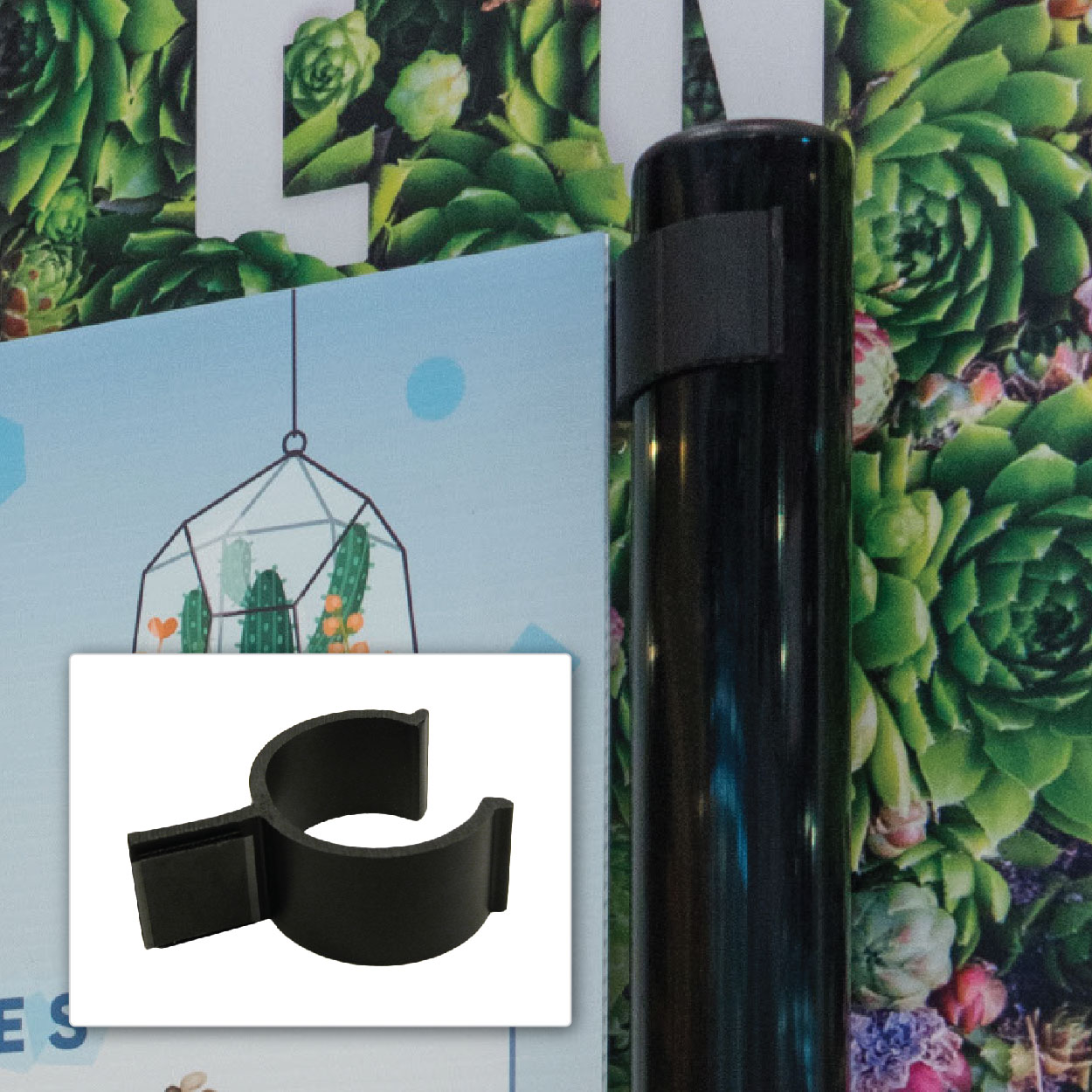 For a real attention-grabber, consider graphic clips. These handy devices work exclusively with SPC displays and easily snap onto the legs and poles of any of our displays. Velcro is used to attach graphics to the clip for instant head-turning signage. Alternatively, graphic clips can be used to cover up unwanted dead space or to wrap legs.
For these applications, we suggest using lightweight and rigid substrates such as a 4mm Coroplast or thin corrugated cardboard. A styrene or card-stock substrate can also be used for this application; however, it may bow inwards or outwards slightly.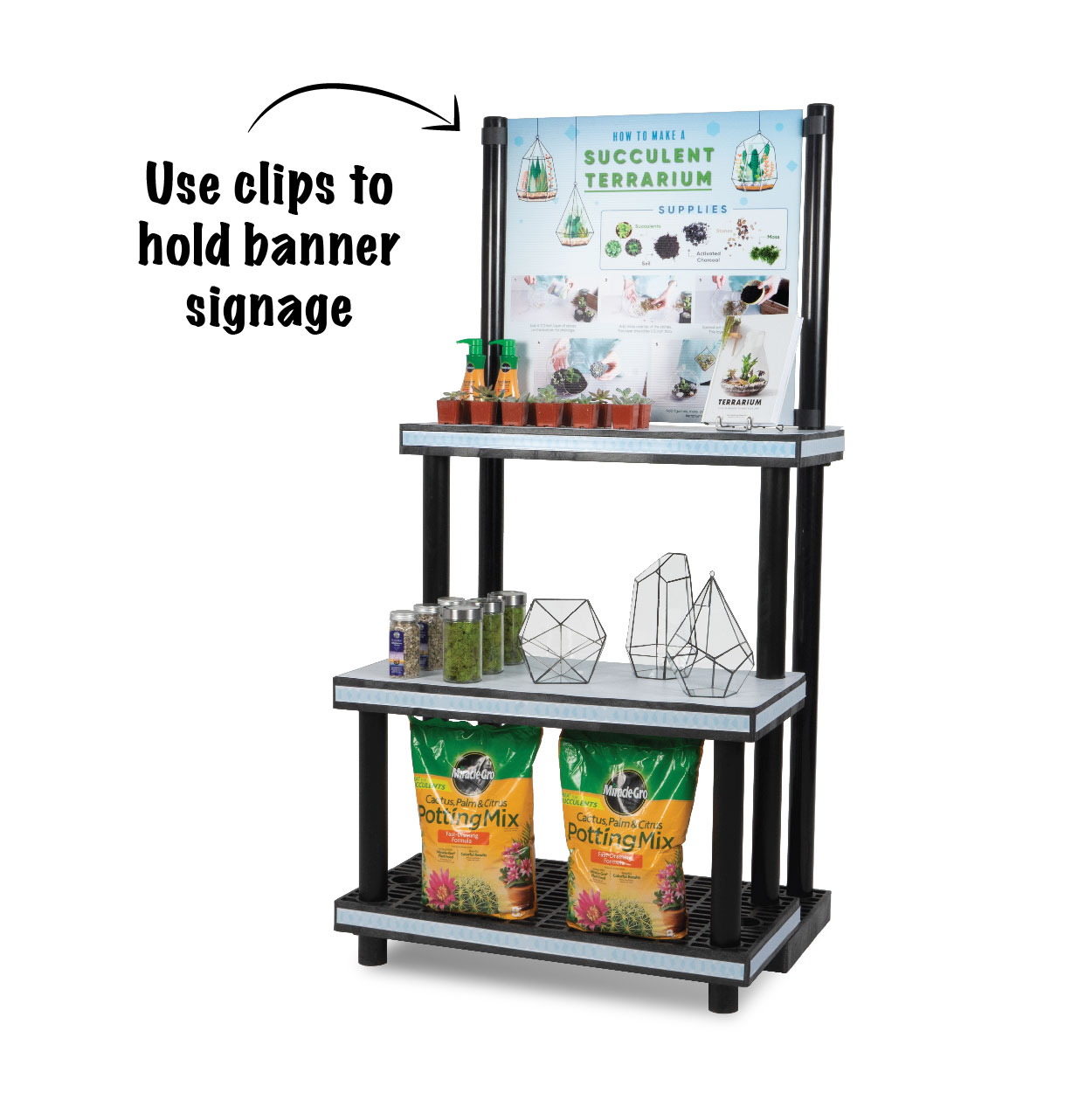 ---
Tag Strip & C-Channel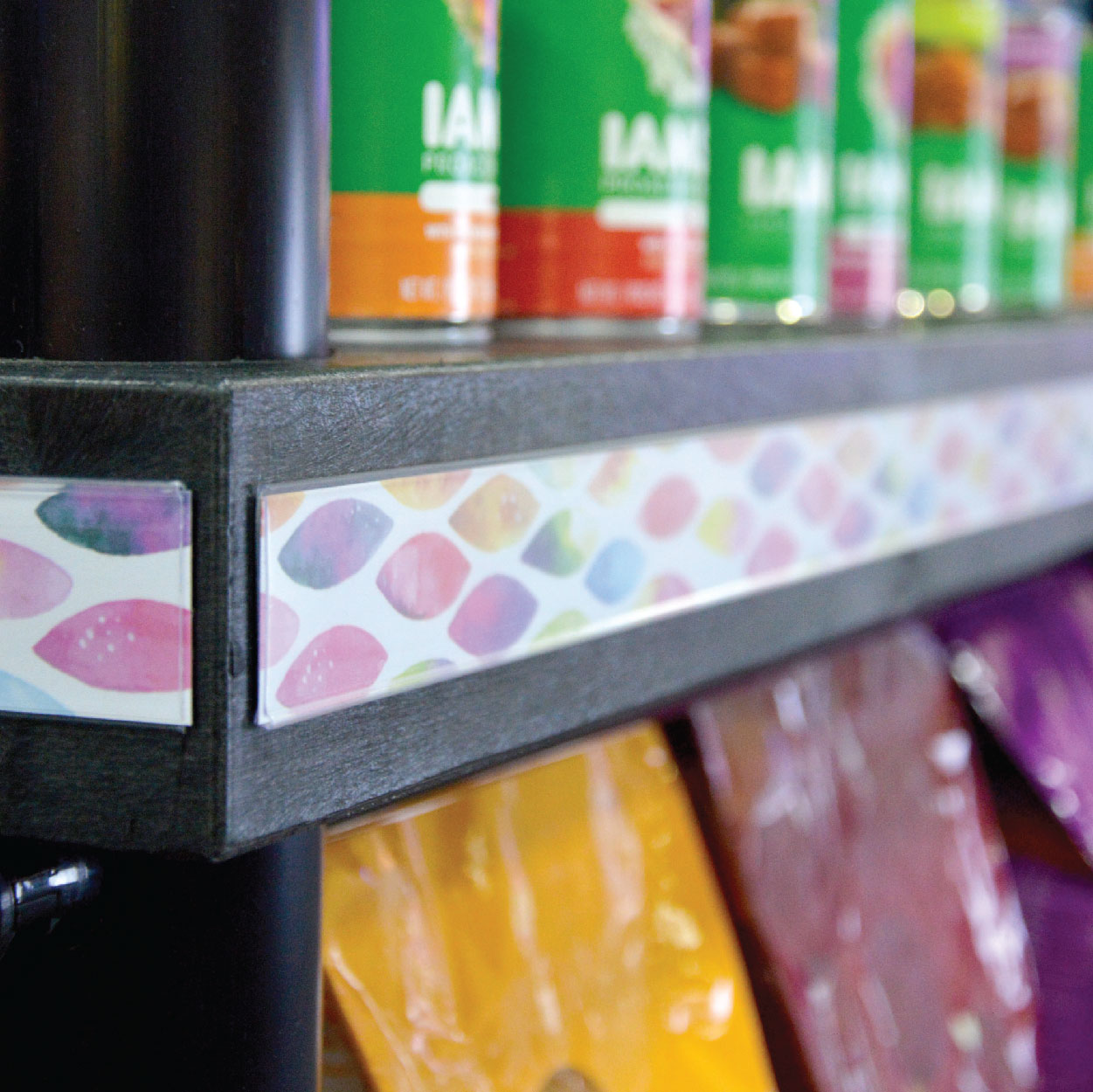 Tag Strips are 1.5-inch adhesive channels that are mounted onto the edges of displays for added color, branding, price tags, or UPC inserts. Generally, this is a cost-effective and easy option for incorporating graphics onto our displays. For color or graphical inserts, we recommend using a Poly-Film substrate.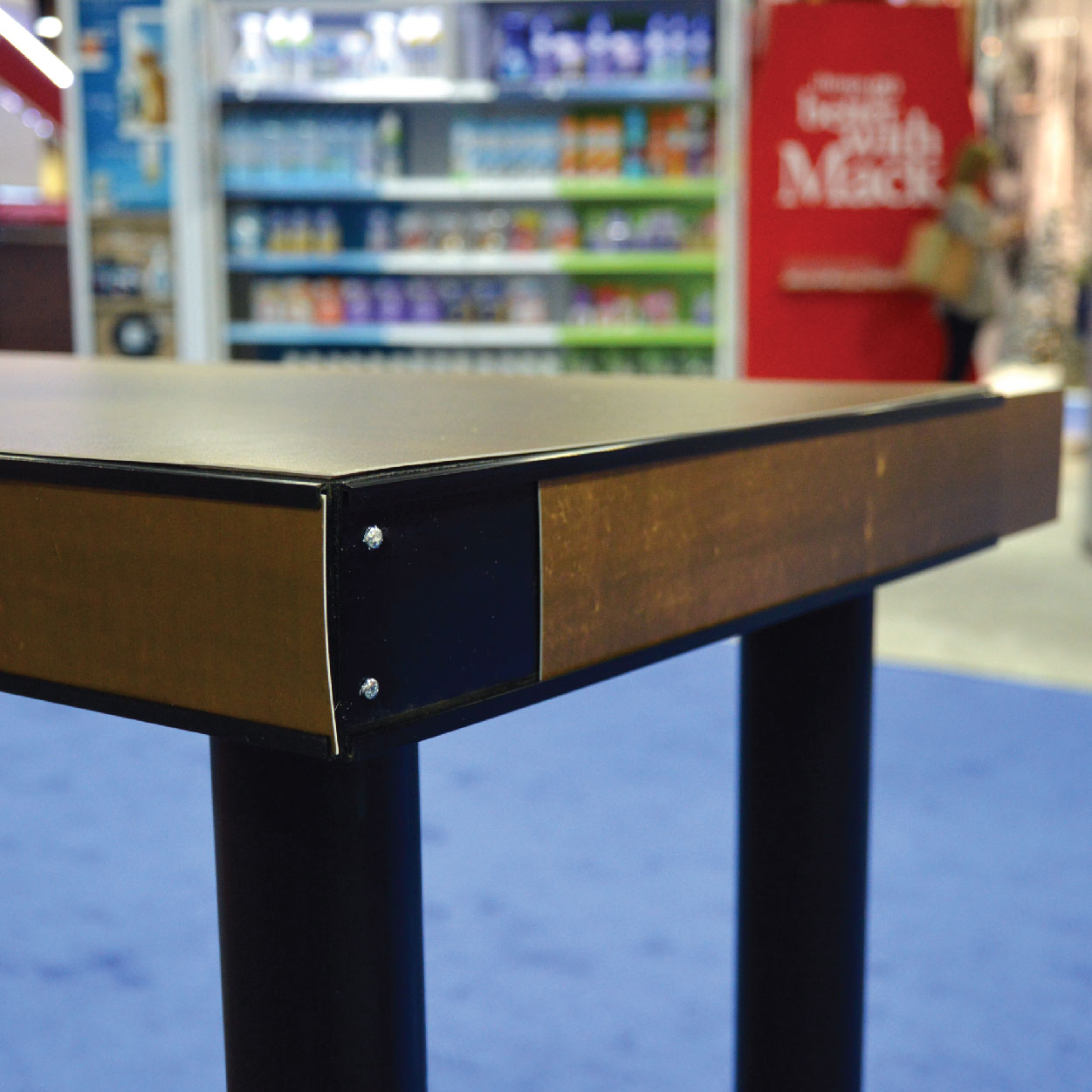 C-channel is the alternative to tag strips. They are 2.5 inches tall, allowing full coverage of display edges. This provides greater opportunity for the addition of color, branding, promotional messages, and much more. C-channels are screwed into the side of the panel for a more permanent add-on. We recommend using a graphic substrate such as a 020 Styrene or Card-stock with C-channels.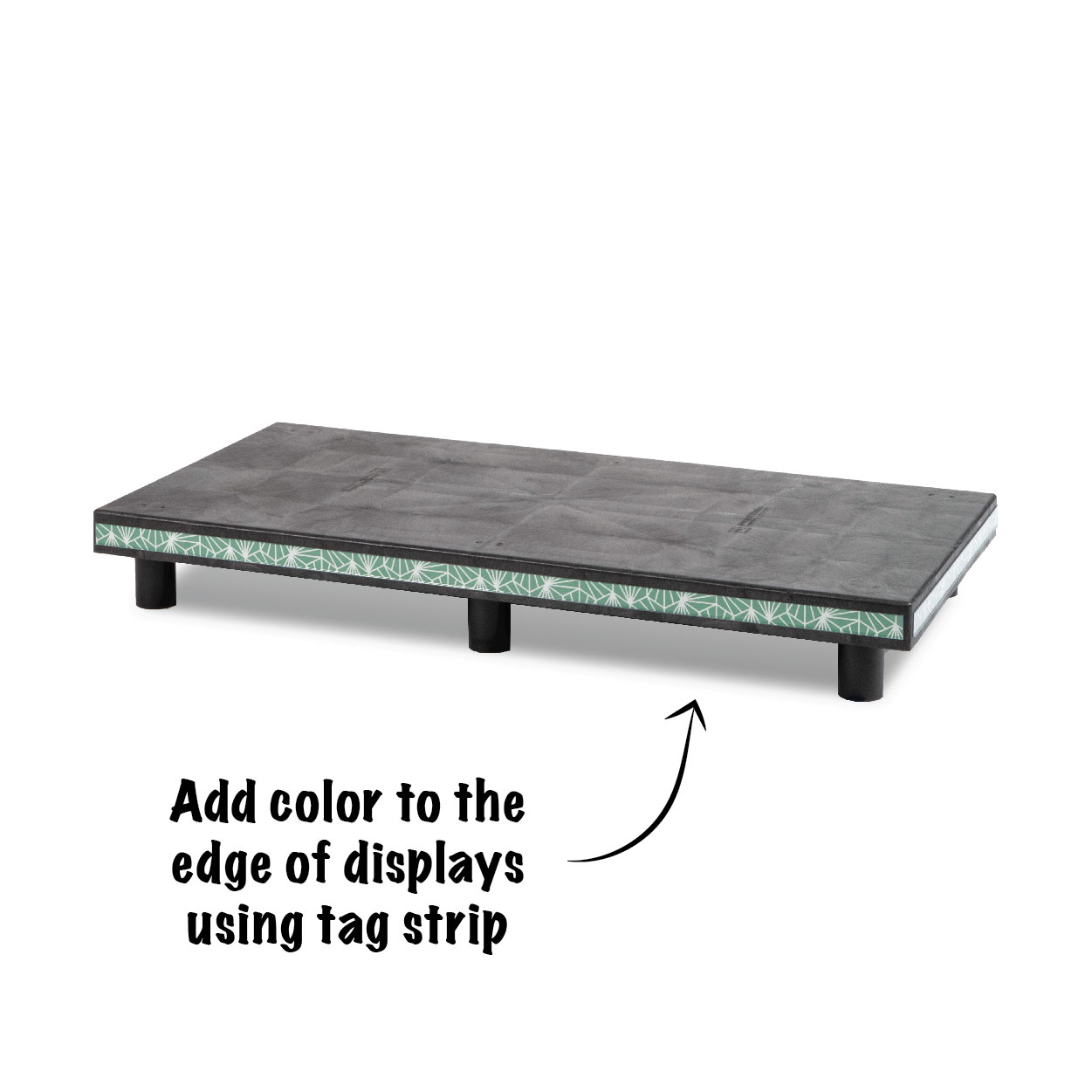 ---
J-Channels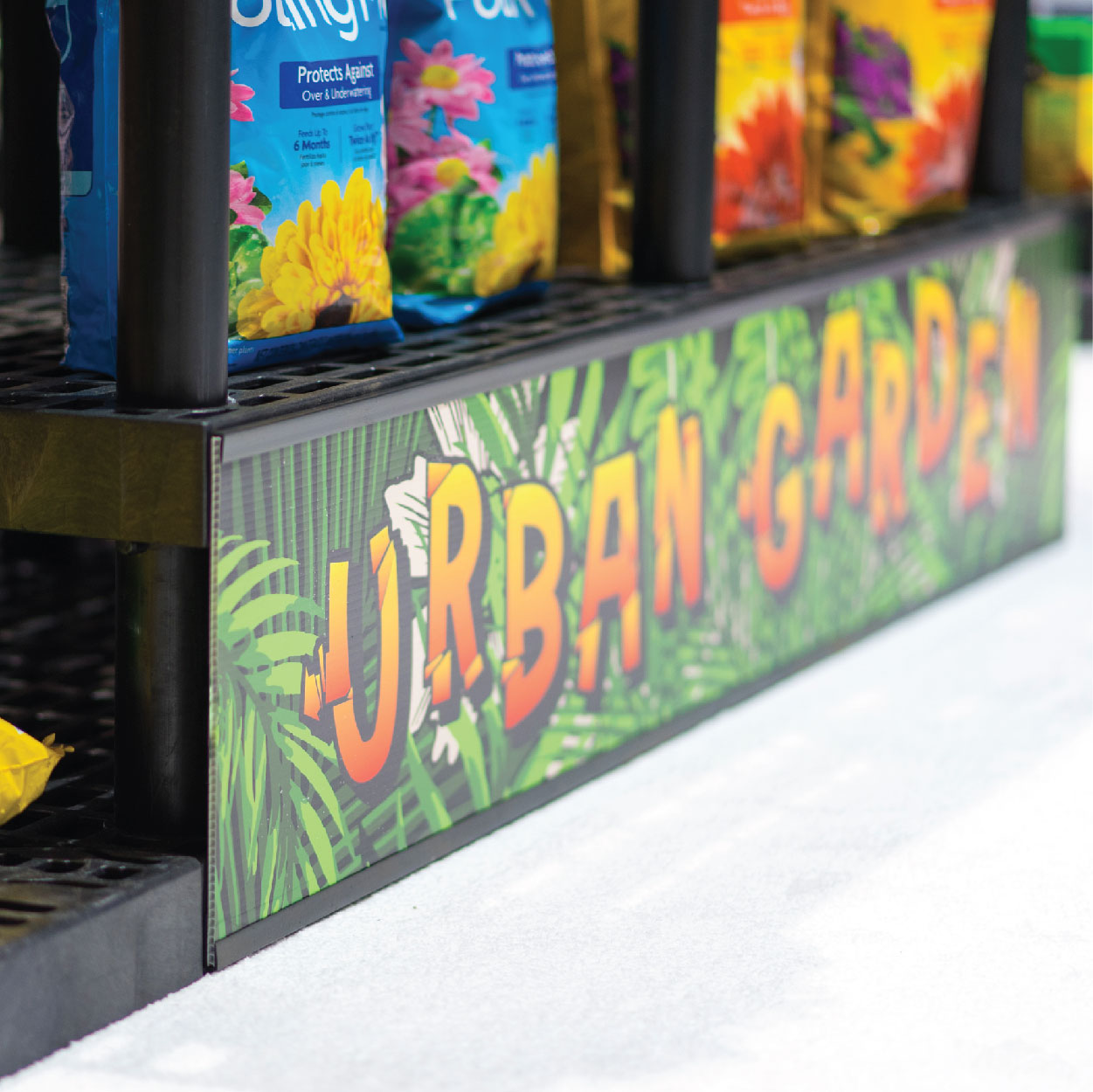 J-Channel is commonly used to hold graphic headers on SPC wall and power tower displays or for front edge slide-in graphics on stepped displays. In these applications J-Channels are stapled to the display, making them a permanent add-on. A substrate no thicker than 4mm is required in order to fit into the channel properly. We typically will use a 4mm Coroplast which keeps graphics ridged and upright while sitting in the channels.
We also provide a light-duty J-Channel that has a self-adhesive backing, commonly used for integrating graphics on Stockblock™ or for full-coverage side graphics, which attaches to panel edges. A 020 Styrene (or greater), cardstock, or 2mm Coroplast substrates are highly recommended.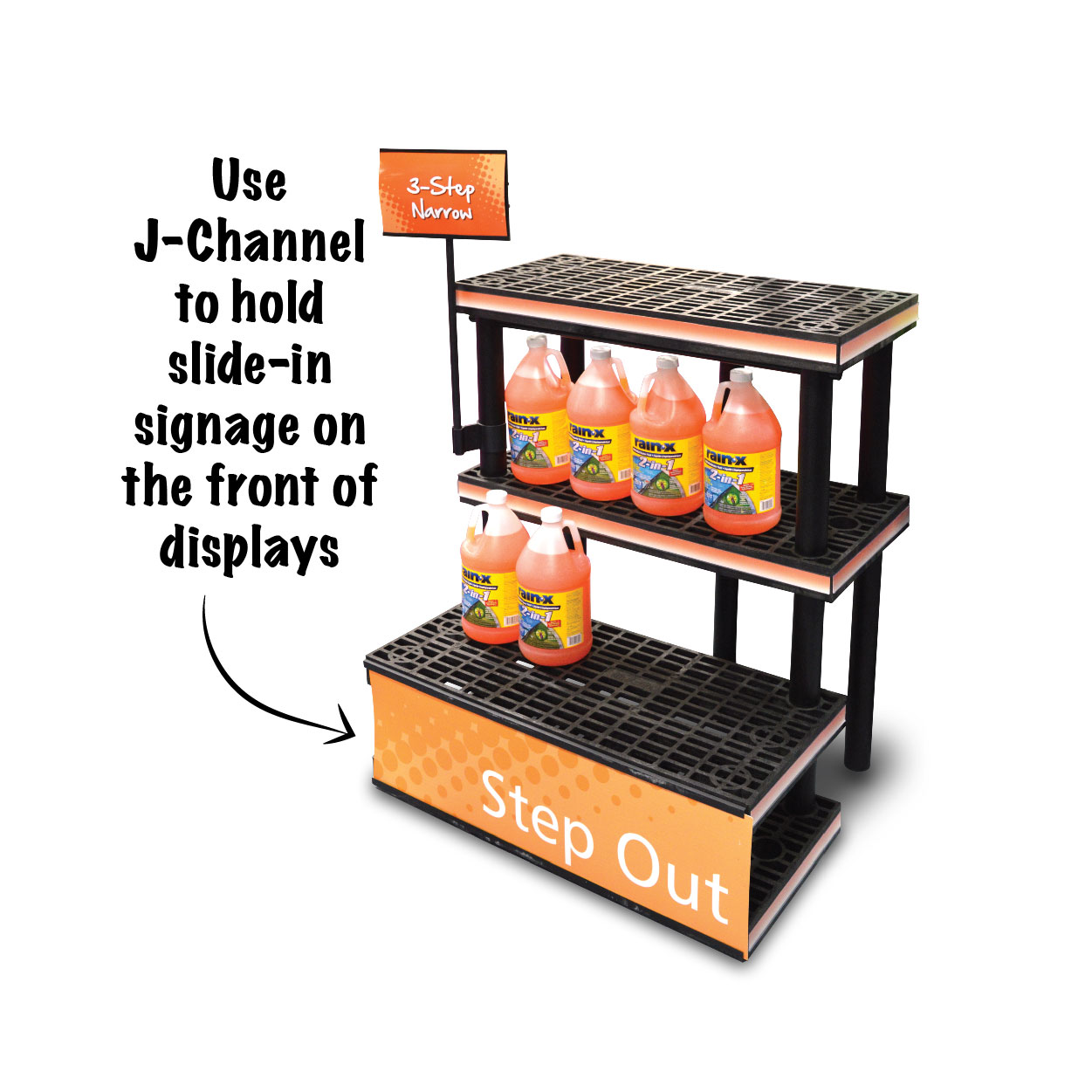 ---
Sign-Holders

Let a well-designed sign do the selling for you. Our sign-kits easily snap onto the leg posts of displays and offer an adjustable sign plate that slides up and down to ensure that each sign is strategically leveled. Our standard sign plates are 11-inches wide by 7-inches high, however, adjustments to width can be made upon request. We recommend a thicker paper such as 110lb Cover, photo paper, or a cardstock, however, any standard paperweight will work.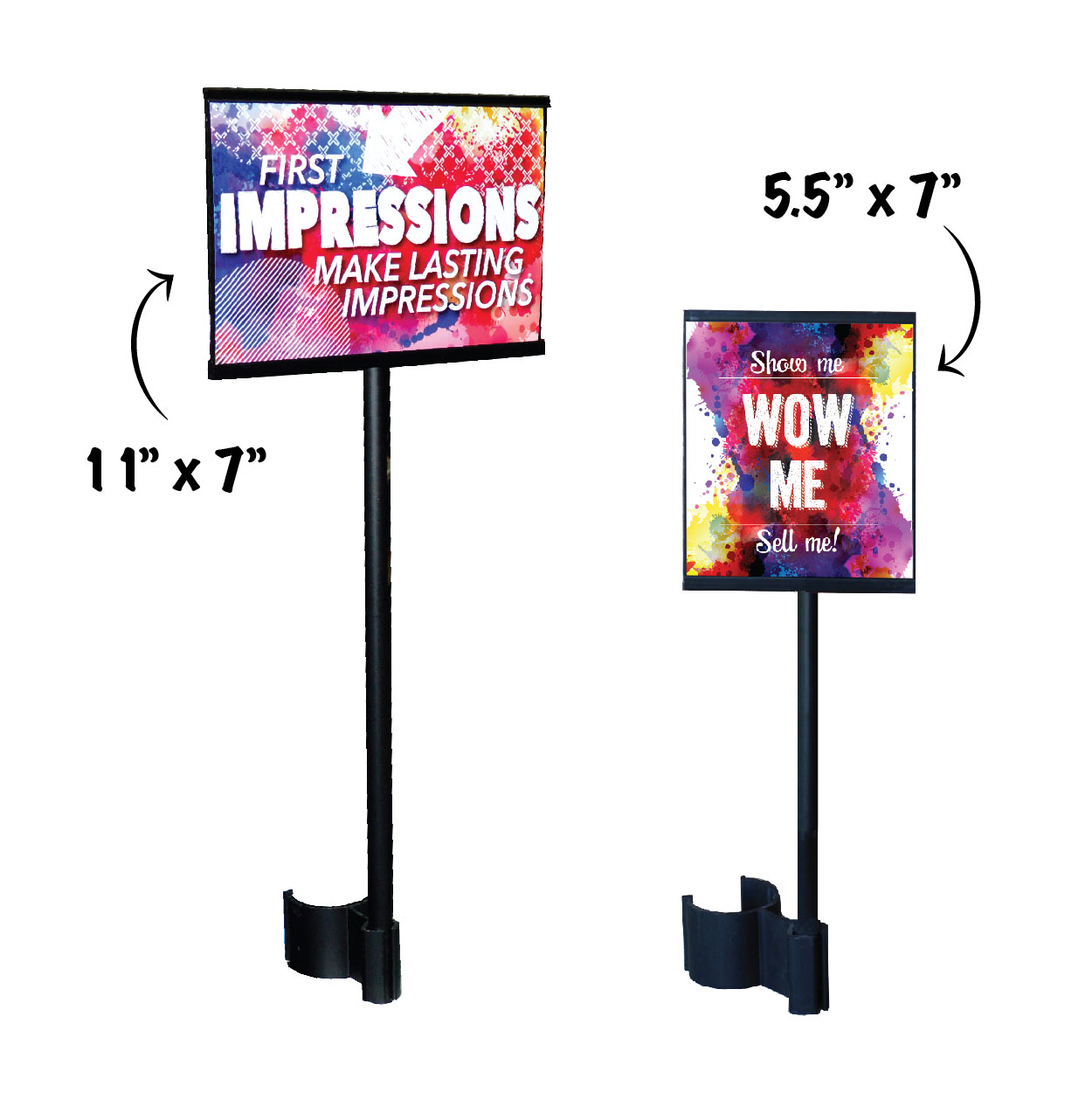 ---
Graphic Toppers
Transform any ordinary shelf or cart into a dynamic branded display with the application of a graphic topper. Toppers are conveniently placed atop the panels of displays to add color or finish.
Graphic toppers can be produced on various substrates. Depending on factors regarding budget, desired durability, and the targeted look, substrates such as styrene, adhesive vinyl, or cardstock can work for this application. We highly recommend the use of an .020 styrene, which has a scratch-resistant surface and maintains the long-lasting vibrancy of your design. Poster putty is suggested for holding graphics in place as a temporary non-adhesive stopper.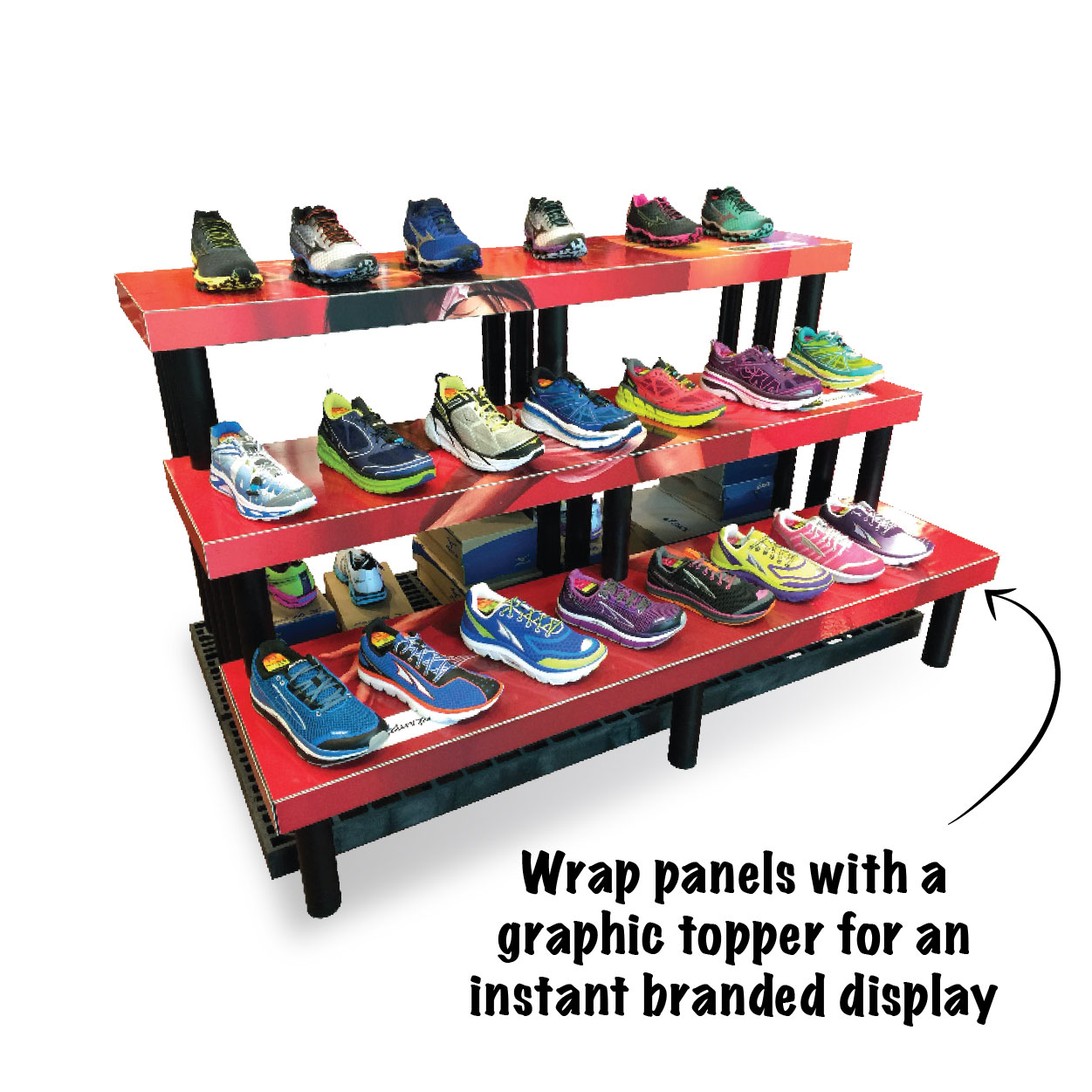 ---
Fabric Wraps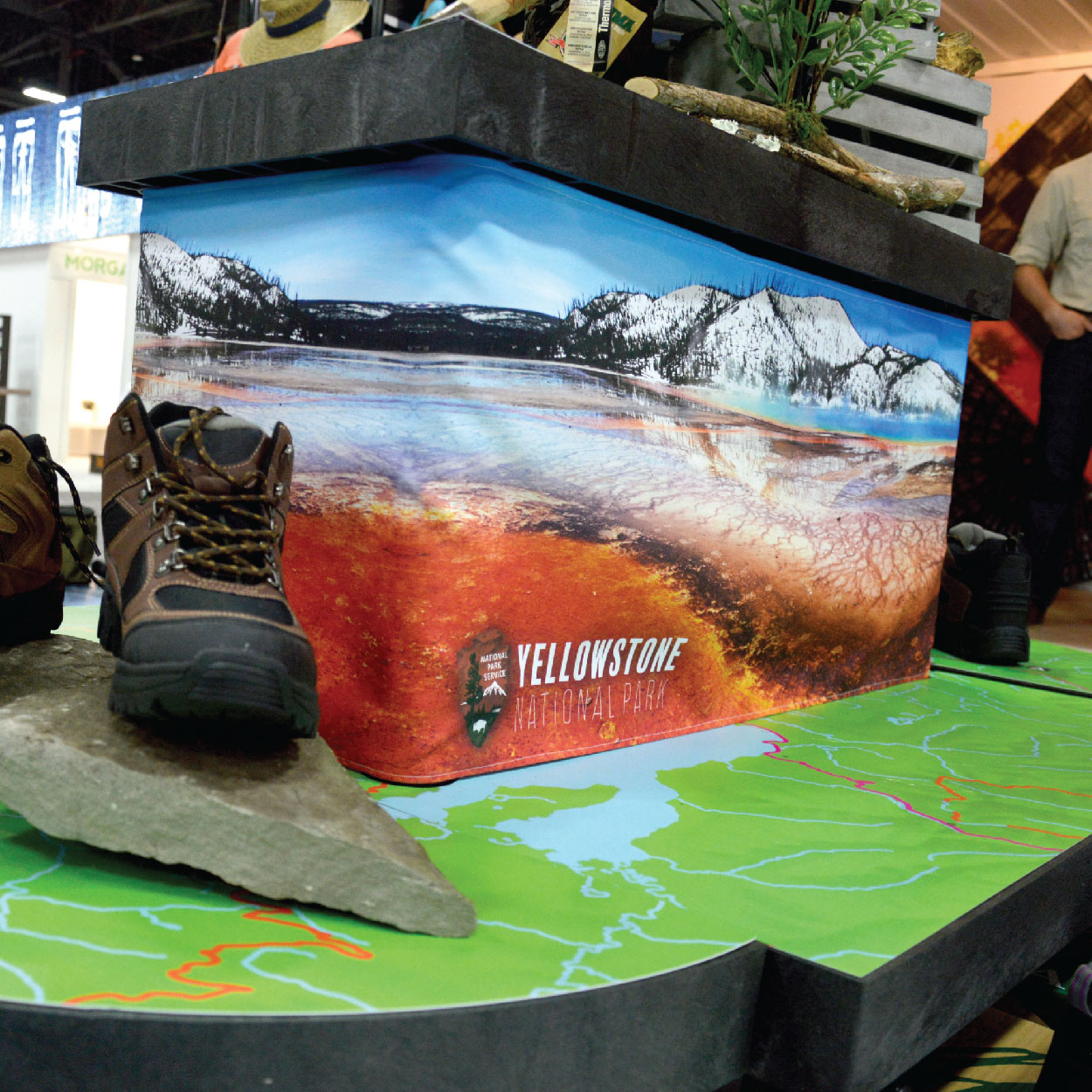 Incorporating fabric is an exceptional way to soften the look of SPC displays. When using a printable fabric you can add color, brand messaging, transform it into a 3D shopping destination, and so much more. Fabric wraps are perfect for highlighting products while masking unused space and leg poles.
---
Hanging Signs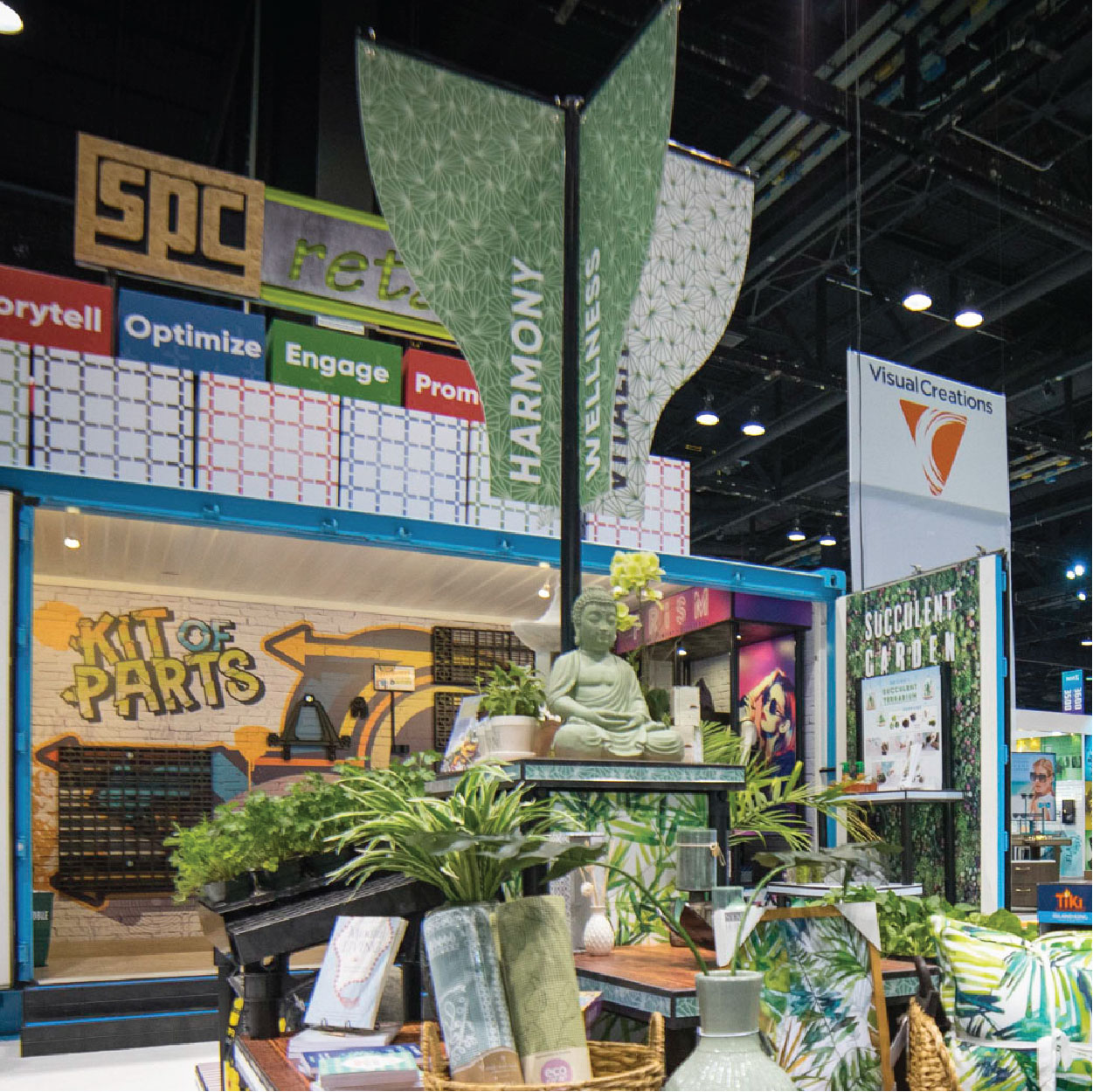 A new addition to the graphics integration lineup is the incorporation of hanging signs. This method is ideal for way-finding signage or to capture attention to the display itself. We will work with you to develop a custom solution that will work with your display*.
We recommend using a substrate that is ridged and lightweight, such as Ultra Board (foam board). This will provide you with the capability to print double-sided while maintaining a clean edge.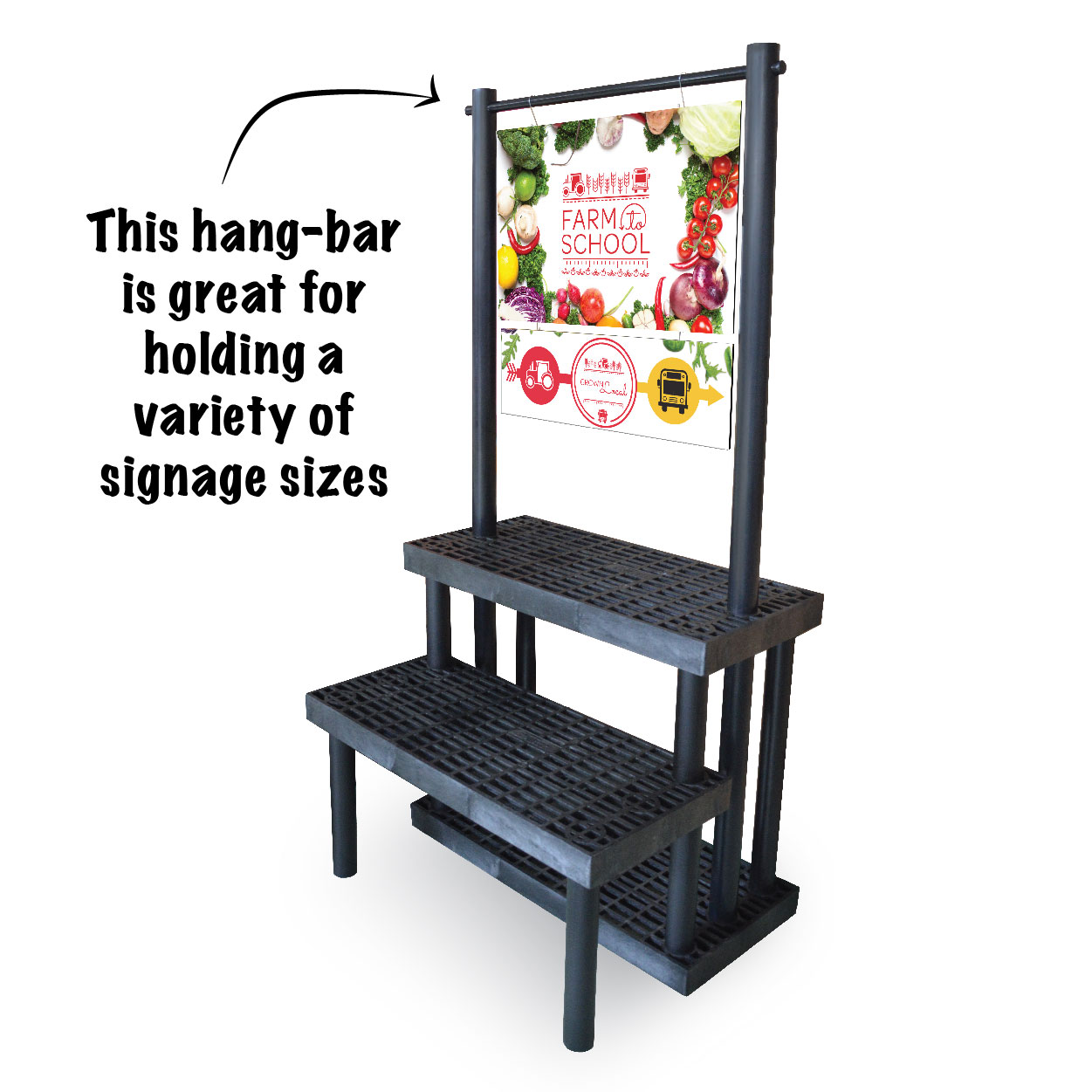 *Not all displays can be retrofitted to incorporate hanging signage. If interested, contact us for more information.
---
Graphic Integration Made Easy
Choosing the right combination of display graphics can boost your in-store promotion efforts. Dressing up your displays is made simple with add-ons that are easily snapped on or laid atop your panels for a swift integration of powerful graphic branding.
For all of our graphic integration options, our design team will provide you with cut files for your specific display that your design team can use in creating effective graphics.
At SPC Retail, we believe in helping retail businesses of all sizes. We go the distance in offering retailers a one-on-one consultation with a member of our design team to discuss specific solutions to their display needs. We strive to continuously improve the shopper experience with our strategic display solutions.
Contact Us to learn more about our products and services. We will help you revolutionize your displays to leave a lasting impression on your customers.
---