How Temporary Retail and Pop-Up Stores Grow Your Brand
Over 80,000 retail stores are expected to close in the next five years, and more than 1.3 million retail workers have lost their jobs since 2010. But brick-and-mortar retail is far from dead — in fact, temporary retail is giving new life to the growing number of vacant retail spaces.
Despite a global pandemic that turned more customers onto online ordering and brought record-breaking figures, in-person shopping continues to thrive. Part of its success is the reimagination of the pop-up store. These temporary stores last days, weeks, and sometimes months, allowing shoppers to experience brands in unique ways.
With no long-term commitments, minimal overhead, and greater flexibility in how, when, and where they operate, pop-up stores give brands new ways to grow and new avenues to explore.
For an in-depth guide on the pop-up concept, download our latest white paper: A Retailer's Guide to Temporary Retail and Pop-Up Stores. Or, keep reading for a closer look at the pop-up store concept.
What is a Pop-Up Store?
Pop-up stores are temporary retail outlets that aim to drive brand awareness and immediate sales or offer unique experiences not found in a traditional store. For example, digital-native BarkBox launched a pop-up shop to let dogs "test" different toys. RFID technology and an app allowed the brand to track which toys were played with the most while encouraging owners to purchase their pup's favorite toys.
Pop-ups can also be used as "test labs" for brands launching new product concepts or tapping into new markets. Since pop-up stores are temporary, they're more cost-effective than building out a permanent store. Plus, they can help fine-tune ideas before investing in extensive product development and marketing.
Examples of Pop-Up Stores Done Right
The pop-up model has been used by small and large retailers, restaurants, online-only companies, and even service providers like career matchmakers. Here are a few creative ways we've seen temporary retail at work:
Birchbox
Monthly makeup subscription service Birchbox hosted a pop-up shop to test a brick-and-mortar concept. In addition to growing brand awareness, the company created a makeup sample bar for users to try various products. They also infused things like astrology readings and manicures into the experience to encourage in-person visits.
Penguin
Book publishing brand Penguin set up a temporary retail shop to celebrate International Women's Day. Their merchandise for sale consisted of books written by female authors, as well as workshops and author appearances.
Modify Watches
Modify Watches hosted a unique pop-up event to showcase its watches as well as how they're made. This gave users a glimpse into what makes each watch so special (there are more than 300 variations!). It also lets the brand learn more about how consumer tastes and reactions can vary from one customer to the next.
---
See Our Work In Temporary Retail + Pop-Up
---
How to Leverage the Art of Temporary Retail for Brand Growth
The flexibility of the temporary retail concept leaves much room for creativity. Brands can use existing store infrastructure and existing foot traffic to capitalize on sales, brand awareness, and unique experiences that will build loyal customers — all without the traditional retail investments.
However, executing a successful pop-up is both an art and a science. There are several pop-up formats retailers can explore, each one with unique considerations in terms of location, size, and layout. There's also the matter of marketing your event to build awareness and excitement.
At SPC Retail, we're the preferred choice for one of the most essential elements of a successful pop-up store — the displays. Download our white paper for tips, tricks, and how-tos to make your next pop-up event a success!
---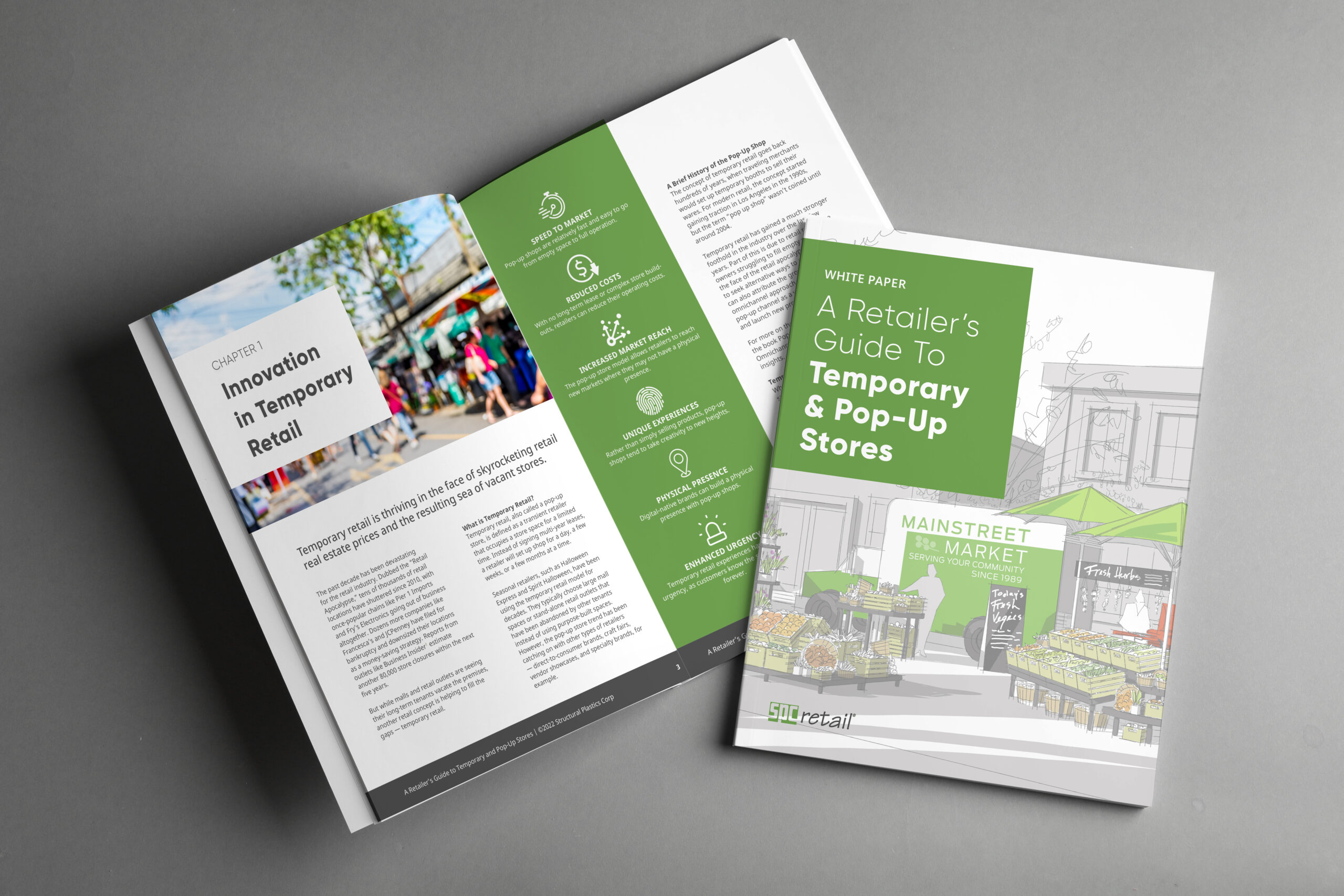 WHITE PAPER:
A Retailer's Guide to Temporary Retail and Pop-Up Stores
Complete the form below for access to an in-depth guide on all things pop-up. You'll get insights into:
How temporary retail has evolved and why it's changing how retailers are connecting with shoppers
Types of temporary retail, including their pros and cons
Tips on how to design a temporary environment with examples
How to market your pop-up for success